This jerk (that's right he's a jerk) is just biting at the bit to recognize a Palestinian state. How much you want to bet that Sweden will recognize a Palestinian state in the UNGA? The Swedes race with their Norwegians cousins to see who can scrape the bottom of the barrel first. KGS
NOTE: Carl Bildt is the same moron who, as acting Swedish Foreign Minister, greeted the Swedish participants in the Mavi Marmara flotilla when they returned to Sweden. So he is also for breaking international law.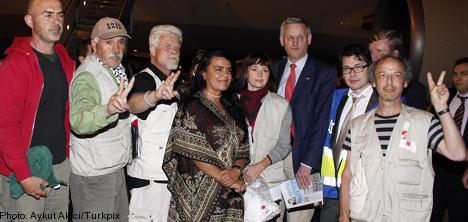 Bildt makes shock Palestinian envoy move
Swedish foreign minister Carl Bildt has angered his coalition partners by unilaterally recognising the Palestinian representative in Stockholm as ambassador. 
"This means a significant step forward for us, which we appreciate hugely," said the newly appointed ambassador, Hala Husni Fariz, to news agency TT. 
Bildt received the new ambassador on Thursday, making her the first Palestinian representative to be formally welcomed at a ceremony at the foreign ministry.
Fariz, born in 1955, is the highest ranking Palestinian representative in Sweden since the delegation arrived earlier this year.
According to Fariz, the Swedish government has been an important aid giver in the development of the Palestinian state and institutions as well as having made a clear stand on wanting a peaceful and fair two-state solution in the region.
"This is the climax of a long relationship with the Swedish government and we appreciate the support and help that we have received," she said to TT.
According to a statement from the foreign ministry the upgrade of the Palestinian representation follows "great advances made in the development of the Palestinian state".
"It is now important that the parties resume negotiations leading to a two-state solution and the creation of a democratic and sustainable Palestinian state, side by side in peace and security with Israel," said Bildt after the meeting with the new ambassador.
In two weeks the UN general assembly will gather in New York and the Palestinians are anticipated to demand independence through the representation of president Mahmoud Abbas.
If the question is raised on the security council, the US is expected to veto the demand.
Fariz did not want to comment on what the new status of the Palestinian representation in Sweden will mean to the UN process.
UPDATE:
Here
is a link
to an earlier TT post concerning the Norwegian government paying convicted terrorists' salaries in Israel prisons. It also mentions the Swedish contribution as well. So keep that in mind after reading about the kudos given by this Arab to the Swedish state's "contributions".