This is great news, regardless of the small number of muslims in Finland, and the propaganda spread by the various wings of the Finnish state and media, Finns are ahead of many other countries in their views on Islam. It means that they look to alternative sources outside the Finnish language for their information. This is excellent news! KGS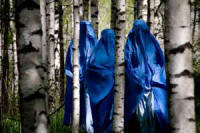 Researcher: Finns now more critical of Islam
Finns hold largely negative views on Islam, according to a study on attitudes to various religions. Christianity enjoys the best standing among Finns, but the majority would be ready to welcome representatives of other religions into their families.
Based on their survey responses, Finns were best disposed towards Christianity, had mostly positive impressions of Buddhism and Hinduism, and felt most critical towards Islam.
Only six percent of the survey respondents thought of Islam in positive terms, with the vast majority clearly holding negative impressions—which, says researcher Kimmo Ketola from the Church Research Institute, is mostly down to the media.
"There are very few Muslim immigrants in Finland compared to many other European countries. The media can convey an exceedingly harsh and negative picture of Islam," Ketola says.
More acceptance
The researcher notes that Finns' feelings about foreign religions have changed for the better over the past couple of decades, but attitudes towards Islam have hardened in the 2000s.
However, Ketola says, prejudice is not so all-encompassing.
"When Finns were asked whether they'd be ready to accept people of other religions into their family or as representatives of their parties, in this regard Finns were among the least prejudiced of nations," Ketola says.
Only four percent of Finnish residents adamantly opposed the idea of their relative marrying someone of a different religion.