Just passing on to you, the Tundra Tabloids' readers, information received in an Israeli Defense Ministry newsletter. KGS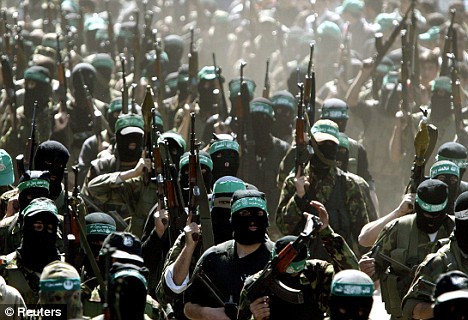 Israel under Attack
Special newsletter 22nd August
23rd of August 2011
Terrorist Attacks in Southern Israel
In the past few days (18th-22nd of August) there has been a dramatic increase in terrorist aggression emanating from the Gaza Strip the Sinai Peninsula targeting Israeli civilians.
Since 18th August, heavy rocket and mortar fire has been continuously launched from the Gaza Strip into the Israeli cities Ashdod, Ashkelon and Be'er Sheva targeting civilian locations, such as schools and places of worship.
Moreover, on 18th of August 2011, a series of terrorist attacks was perpetrated against civilians and IDF soldiers in Israel's southern region. Eight people were killed in the day's attacks and thirty-one were injured.
The attacks demonstrate the constant danger posed to Israel by the terrorist organization Hamas' de-facto authority over the Gaza Strip.
These attacks highlight the security challenges faced by both Israel and Egypt and emphasize the need for close cooperation as terrorists exploit the Sinai Peninsula to harm the interests of both countries.
In the Face of such aggression Israel maintains its right to self-defense and the protection of its citizens.
Rocket fire towards Israel continues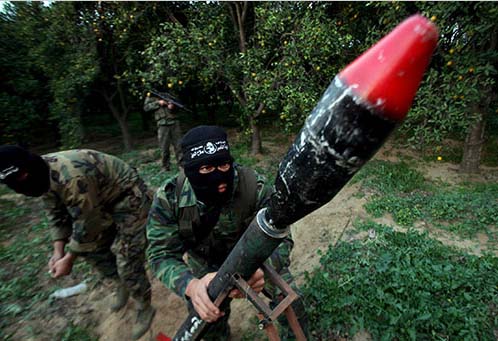 From the time of the initial attacks on 18th of August, heavy rocket and mortar fire has been continuously launched from the Gaza Strip into Israeli territory. Over 109 rockets, missiles and mortars have hit in the vicinities of Be'er Sheva, Ashdod, S'derot, Kiryat Gat, Kiryat Malachi, Ashkelon, and other neighboring communities.
One of the rockets (21st August) contained phosphorus. The projectiles have targeted civilian locations, such as schools and places of worship.
The Iron Dome defense system successfully neutralized at least 17 rockets after it was determined they would hit densely populated areas.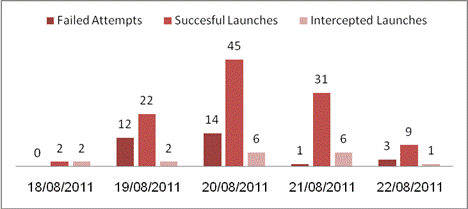 During the year of 2011 over 185 Rockets and 213 Mortars were fired from the Gaza Strip towards civilian areas in Israel.
The attacks near Eilat
On 18th of August a dozen terrorists wearing Egyptian Central Security Police (CSP) uniforms crossed into Israel through the Sinai Peninsula, exploiting the recent instability in Egypt to deploy terror at several locations:
1. The terrorists opened fire at a public bus on route to the city of Eilat, injuring 14 people – 7 of whom were IDF soldiers.
2. The terrorist squad opened fire at a second public bus (empty except for the driver) and one perpetrator detonated an explosive vest at the bus in a suicide attack, killing the bus driver.
3. Explosive devices targeted one civilian vehicle and explosives light arms fire targeted a second, killing four occupants in the first vehicle and killing one and wounding another in the second.
4. Light arms fire was directed at an IDF force on route to the site of the attack. One soldier was killed and four were injured.
5. Sniper fire from Egyptian territory targeted an Israeli Police SWAT team on a sweep along the Israel-Egypt border, killing one security officer.
Moreover, one of the terrorists involved in the attacks near Eilat detonated an explosive vest in Egypt, injuring three Egyptian CSP personnel.
As a result of the attacks 8 Israelis were killed and 31 injured; 3 Egyptian CPS personnel were killed a number were injured.
In response, Israeli security forces responded to terrorist fire originating from Egyptian territory. At least 7 terrorists were killed.
The terrorists responsible for the attacks originated in the Gaza Strip and crossed into Israel via Egypt to promote their radical agenda and use the Sinai Peninsula as a means to launch terrorist attacks against Israel.
The level of sophistication and coordination apparent in these attacks demonstrates extensive planning which could only have been achieved with local assistance.
Israeli Policy
Israel maintains its right to self-defense in the face of terrorist attacks against its civilian population. The IDF has responded to the recent events by carrying out pinpoint attacks in Gaza, targeting leaders of the "Popular Resistance Committees," a terrorist organization closely related to Hamas. Four to six terrorists, including the head of the organization in the Gaza Strip, Kamal Nirab, were killed.
Israel is committed to peace, and has no intention of escalating the situation, but will do what is necessary to protect its citizens.
Egypt was also a victim of these attacks and Israel expects Egypt to continue acting determinedly within its territory to prevent terrorist activity directed against Israel, in accordance with its recent declarations to uphold the Israel-Egypt peace treaty.
The relationship between Israel and Egypt has been and remains a strategic, political and security imperative for both countries.
Israel will not tolerate a reality in which its citizens are attacked on a daily basis, they lives are in danger. The Israeli Defense Minister, Ehud Barak, said while visiting an Iron Dome battery in southern Israel (21st August 21) that "This emergency situation may last for several more days and Israel will operate as necessary". Also Barak noted that Israel plans to have nine Iron Dome batteries by the end of 2013.