This is an excellent essay in every respect. KGS
Left-Wing Media Bias in Norway 
by The Observer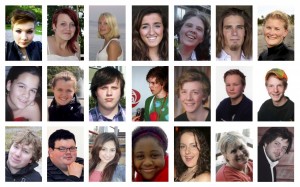 I've decided to write this essay in order to try and shed some light on the media response in the wake of the terrorist attack in Oslo. I will compare this response to that following similar terrorist attacks carried out by radical Muslims, and will try to highlight the disparity in the way the media are reporting these incidents. Many individuals in the conservative community in Norway have claimed that they have been treated unfairly by the media in the aftermath of these attacks, and unfortunately they have a valid point.
I will also look at the way certain political parties and organisations in Norway, including AUF, view organisations that engage in terrorist activities. In addition I will be taking a closer look at the Muslim community in Norway, and give some examples that raise serious doubts about the MSM claim that this community strives to embrace Western values. I will provide examples that show that certain members of this community pose a serious threat to Norwegian society.
The terrorist attacks in Norway are unique in several ways:
They are unique because they were carried out by an ethnic Norwegian male with right-wing views, and not a radical Muslim, which has been the case in almost every major terrorist attack in the last few decades.
They were also unique because many of the victims at Utøya who were massacred by the crazed gunman were members of an organisation which has on several occasions expressed sympathy, to varying degrees, for terrorist organisations abroad, particularly the PLO and Hamas.
The terrorist's attacks are unique because of the unrestrained media response following the attacks. In the past, whenever radical Islamists have been behind such attacks, the media have attempted to shield Muslims and have discouraged people from blaming Islam. In fact, the MSM have never hinted that the Muslim community in Norway; or elsewhere for that matter ever have had any culpability in any Muslim terrorist attacks. The Media have gone out of their way to persuade the public that such comparisons are unfair and baseless. Later in this essay I will give examples that prove this.
In this incident, however, where the perpetrator is a non-Muslim with extremist right-wing views, the entire conservative community in Norway have been implicated by certain political commentators and the MSM. Conservative, anti-Islam blogs and individuals that have expressed critical views of Islam have been vilified and indirectly accused of 'emotionally' contributing to the attacks. The media's main argument is that these groups have somehow inspired Anders Behring Breivik to resort to violence by means of fervent rhetoric against the Muslim community and the political establishment.