Why, oh why, are we not surprised at all that this man could be involved? KGS
Who 'made $10bn on 10/1 bet that U.S. credit rating would be downgraded'?
Unknown investor or hedge fund 'made $850million bet'

Bet in futures market reportedly done at odds of 10/1

George Soros made similar bet on currency in 1992

But source says he wasn't involved in rumoured trade

By MARK DUELL
Last updated at 12:08 AM on 9th August 2011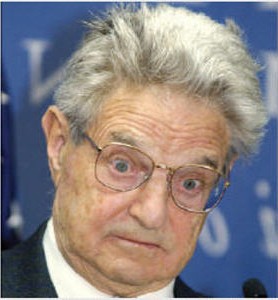 A mystery investor or hedge fund reportedly made a bet of almost $1billionat odds of 10/1 last month that the U.S. would lose its AAA credit rating.
Now questions are being asked of whether the trader had inside information before placing the $850million bet in the futures market, or if the bet happened at all.
There were mounting rumours that investor George Soros, 80, famously known as 'the man who broke the Bank of England', could be involved.