The Tundra Tabloids seconds the Baron's feelings about Fjordman himself, as well as his being forced to resign his famous nome de guerre. As the TT has stated before, Peder Jensen is at heart, a man of peace, gifted not only with a sharp intellect and a great writing prose, but also a man of courage, at a time in history when courage isn't in great supply. Thanks to both the Baron and to Steen for writing their thoughts about our friend and colleague, it's greatly appreciated, and well deserved. KGS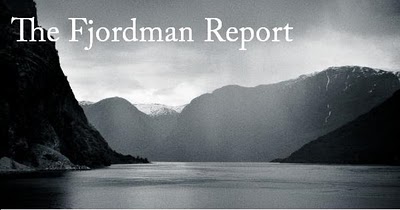 The Forced Resignation of Fjordman
Our regular readers know the writings of Fjordman, and are familiar with what has happened to him in the two weeks since Anders Behring Breivik murdered seventy-six people in Oslo and on the island of Utøya.
Our thousands of new readers also know who Fjordman is — or at least they know the media construct labeled "Fjordman", which has little or nothing to do with the reality of the man who chose that pseudonym when writing about the ongoing destruction of European civilization.
Yesterday, after receiving legal advice, Fjordman chose to visit the police, reveal his identity, and answer any questions they posed. Contrary to media reports, the police did not "discover" him.
For the record: The Norwegian authorities had no idea who Fjordman was until he decided to reveal himself, of his own free will.
After his discussions with the police, he gave an interview to a media outlet, and then retired once again from public view.
An account of the police interview was published here. Then, later on this morning, the interview with Fjordman was published at VG . The same information was later published in Denmark. Almost immediately his real name wasadded to his Wikipedia entry, which had already been in existence for a number of years.
It's no surprise to learn that he has gone into hiding — we've all seen what the "anti-fascists" do to people who hold opinions like ours, and Fjordman has to be one of their high-priority targets.
[TT: ALSO: A word from Snaphanen's Steen at Dagbladet]
Dagbladet: BLOGS ON ISLAM CRITICAL SITES: Peder Jensen has been active in, among other things, the blog Gates of Vienna. He has expressed concern that Europe will soon end up in civil war conditions because of Muslim immigration, and promoted theories about Eurabia – that this is a desired policy based on an agreement the Western political elite has been signed with countries in the Middle East. Eurabia theory is severely criticized and rejected by a number of researchers.
(Dagbladet) "He stands as a quiet, shy and a thoroughly peaceful person," writes the Danish friend Steen Wied in an e-mail to the newspaper Dagbladet.
Today it became clear that the blogger "Fjordman" 
really Peder Nøstvold Jensen (36).
 Fjordman told VG that he will stop writing under the pseudonym.
Breivik's idol
In his 1500-page manifesto uses the mass murder accused Anders Behring Breivik bulky for his idol Fjordman, the anonymous Norwegian blogger who Breivik believes is the best European writer today. In his manifesto has Brevik taken by 40 of the Fjord Mans articles.
One of those who met Jensen several times, the Danish blogger Steen Wied. He runs the Islam-critical web snaphanen.dk.
"I consider him my friend, in the sense that we have been able to rely on each other," writes Wied in an e-mail to the newspaper Dagbladet.
– Scholar
Wied said he has known Jensen since 2006 and that he has met him 7-8 times. Jensen has lived in Wied when he was in Copenhagen.
"He is a very learned and well-read and certainly umilitant person. A classic European intellectual and not sustained by a universal genius, "writes Wied, who says he has had regular e-mail contact with Jensen until Friday.
11. September
Wied believe that Jensen had changed his views on Islam 11 September 2001.
"I remember one particular thing that he told me. He experienced 11 September 2001 in Cairo, where he studied. He got a shock that shaped him as he experienced the jubilation in the metropolis, the authorities prevented foreign TV to film, "writes Wied.
"I think the writer Fjordman really formed there," which further explains that Jensen has said that he intended to write about it in the Norwegian press, but that he was censored.So he started blogging.
Worried
"I can share my friend Hans Rustad (editor of document.no editor.) Opinion that he may be too dystopian in between. Whether it is because he knows more than me – and so does he – or whether it is because he is so young, I do not know. An agitator, he is not and he is certainly much more learned than me, "writes Wied, who is now very concerned about Jensen's security.
"His friends are seriously worried about his safety. Pim Fortuyn said shortly before his death in an interview: "If I get killed, as the press guilty". This also applies to Fjordman now. Norwegian police have a great responsibility, "writes Wied.