NRK Anders Behring Breivik idol – blogger Fjordman – is currently being questioned by police. It confirms police attorney Paal-Fredrik Hjort Kraby to NRK
Published Today 15:31. Updated 3:55 p.m. today.
– He has been in questioning today at the police house in Oslo, he said.
Police have previously said they wanted to interrogate the person behind the online identity Fjordman.
The Islamic enemy blogger mentioned several times in the Behring Breivik's manuscript, and mass murderer called Fjordman today's best writer.
Status as a witness
Fjordman has previously stated to NRK that he wants to help the police if he can shed light on the terrorist attacks 22 July.
Today he showed up at the police station in Oslo.
– He has been in questioning today at the police house in Oslo after we assured us that we had the man with the right identity, say police lawyer Kraby to NRK.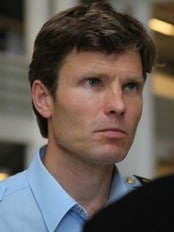 Police Attorney Pål-Fredrik Hjort Kraby confirmed to NRK that the man behind the Islam-critical blog Fjordman has been questioned in Oslo today. Photo: Øyvind Bye Skille / NRK
– What he said in interviews?– We do not want to go into detail about what he said, but he had status as a witness and we had a long and straightforward explanation from him on the questions we had, say Kraby.
The police would rather not talk about who the mystery blogger is. Neither the name, age or residence they go out with.
Fjordman has previously stated to NRK.no that he fears for his life if his identity is known.
Fjordman center for police
Fjordman is Behring Breivik's ideological inspiration, but blogger even says he strongly opposes terrorist acts.
Yet the police at the man as an important witness in the case.
– When he entered in this so-called manifesto, it is clear that he is central to us. He is especially key when he added the weight he is by the defendant, and we will examine what impact the person may have had on the accused, said Kraby.
Fjordman is referred to as a hero figure in the so-called anti-jihad community on the Internet.
Blogger thinks it's just a matter of time before the mass immigration of Muslims will lead to full civil war in Europe.
He is also convinced that Western elites are using immigration as a weapon to achieve a new global world order.
Extensive investigation
Police Attorney Kraby will not say whether they look at Fjordman as part of a larger right extreme networks in Norway, but says that they follow up the track from Behring Breivik's writings.
– From the information set forth in the so-called manifesto, there is reason to investigate further, but after hearing there was no reason to change his status as a witness, said Kraby.
– How do you Fjordman investigating further?
– Now we go through the interview we did with him today, and we'll see what further follow-up is says Kraby.
Police have also created a special unit investigating blogs and other social media Behring Breivik named in the document.
They look at all the links from the terror accused 32-year-old in pursuit of complicit and any links at home and abroad.