Killer was active in Nazi circles.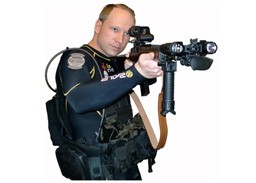 The 32-year-old Norwegian,  Anders Behring Breivik, who confessed Friday to the bombing in Oslo and the massacre in Utøya, has since 2009 been active in a Nazi netforum, writes the Swedish Expo.se.
[…]
– In 2009, Breivik registers an account with himself as a member of the Nazi netforum Nordisk, writes netavisen. According to the Expo, which speak of a Nordic Nazi forum with over 22,000 members.