The pictures are brutal, the video down below even worse, viewer discretion is advised. KGS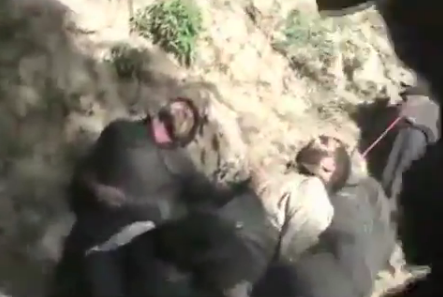 Taliban execute Pakistani policemen on video
ISLAMABAD (AP) — The Taliban released a video Monday showing fighters executing 16 Pakistani tribal policemen in a hail of gunfire after they were captured in a cross-border raid from Afghanistan in June.
The video shows the policemen lined up on a hillside with their hands tied behind their backs, standing in front of armed Taliban fighters wearing scarves to hide their faces. Both the policemen and the insurgents are wearing shalwar kameez, the baggy shirt and pants common in Pakistan and Afghanistan.
One of the insurgents accused the men of executing six children from Pakistan's Swat Valley by firing squad.
"They are the enemies of the religion of Allah," the man said of the police officers.
He and several other fighters then opened fire on the policemen, who crumpled to the ground. Several of them were still moaning, and one fighter walked down the line shooting the policemen in the head.