The Tundra Tabloids believes that if the Euocrats had some stones, that they should kick the Turks in theirs, over the unveiled threats directed towards them by the Turkish foreign minister. Just kick them in the groin like the horse kicked Erdogan. KGS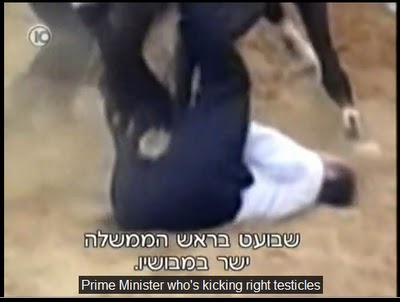 Turkey says EU ties will freeze if no Cyprus solution
ANKARA (al-Reuters) – Turkish relations with the European Union "will freeze" if Cyprus takes over the EU presidency in July 2012 without a solution to the divided island's future, Turkey's foreign minister said on Wednesday.
Ahmet Davutoglu made his comments as the European Union's enlargement chief said in a visit to Ankara that he wanted to see "a new momentum" in Turkey's membership process now that Turkish parliamentary elections were over.
Muslim Turkey started accession talks in 2005 but progress has been slow, largely because of a conflict with Cyprus over a breakaway state on the island recognized only by Turkey.
U.N.-sponsored peace talks between the two communities on Cyprus have stumbled since they were relaunched in 2008.
"If the Greek Cypriot side stalls negotiations and takes over the presidency of the European Union in July 2012, this means not only a deadlock on the island, but also a blockage, a freezing point in Turkey-European Union relations," Davutoglu told a news conference.
EU Enlargement Commissioner Stefan Fuele, in an apparent response to Davutoglu, said all sides should remain focused on a long-term solution to the Cyprus dispute.