And this comes from an organization that refuses to condemn Muslim inspired anti-Semitism, in fact, in spite of all the evidence, they refuse to admit that it even exists.
The then Organization of the Islamic Conference, now Organization of the Islamic Cooperation, told the Tundra Tabloids face to face in Helsinki that "you cannot speak about any Muslim, good or bad as anti-Semitic, this a theory, this is not the case."
Yes it's un-freaking-believable. KGS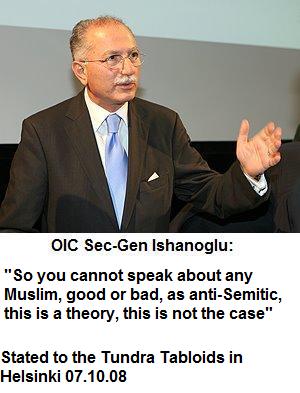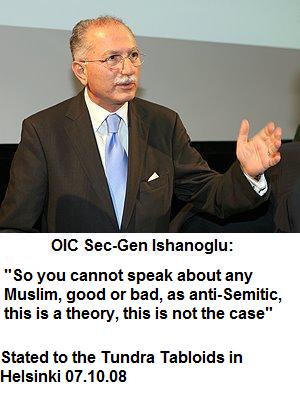 OIC blasts Islamophobia in Holland
The Organization of Islamic Cooperation (OIC) has denounced anti-Islamic acts in the Netherlands, blaming a number of Dutch politicians for supporting Islamophobia.
The foreign ministers of OIC member states issued a statement during a Tuesday meeting in the Kazakh capital, Astana, condemning acts of Islamophobia in the Netherlands. The communiqué also expressed concern over the hateful and provocative remarks made by a number of Dutch politicians against Islam and Prophet Muhammad (PBUH). "Repeated cases of insult to individuals or their beliefs by people, organizations or radical groups, especially when supported by governments, are unacceptable and cause grave concern," the OIC foreign ministers said.
The document, released during the 38th OIC ministerial conference in Astana, further called for immediate measures to prevent such acts. Meanwhile, OIC Secretary General Ekmeleddin Ihsanoglu has issued a separate statement in which he condemned Dutch rightist lawmaker Geert Wilders for his insulting remarks against Islam, Prophet Muhammad (PBUH), and his wives.
"Wilders has taken a dangerous path, endangering the peace and harmony of civilizations by spreading hate against Islam and Muslims in his own country as well as in other European countries," Ihsanoglu said in his statement. "Insult to Islam and to the honored Prophet of Islam, Hazrat Muhammad (PBUH), has reached a stage that can no longer be tolerated under any pretext, including freedom of speech," he added. Ihsanoglu called on the Dutch government to take the necessary measures to stop the Islamophobia campaign by Wilders, and expressed concerns over Amsterdam's silence on the issue which he said could endanger the country's relations with the Muslim world.