2012 cannot come soon enough. KGS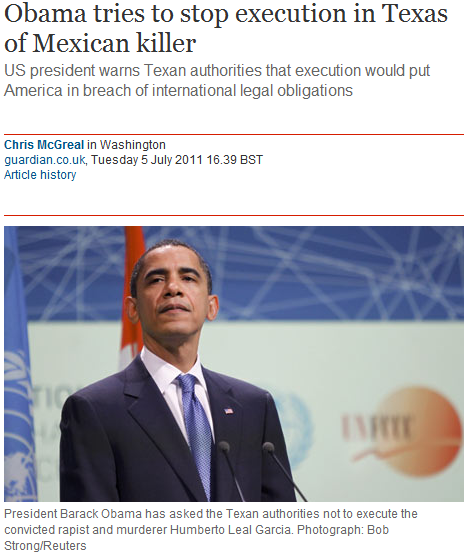 President Barack Obama is attempting to block the execution in Texas on Thursday of a Mexican man because it would breach an international convention and do "irreparable harm" to US interests.
The White House has asked the US supreme court to put the execution of Humberto Leal Garcia on hold while Congress passes a law that would prevent the convicted rapist and murderer from being put to death along with dozens of other foreign nationals who were denied proper access to diplomatic representation before trials for capital crimes.
The administration moved after the governor of Texas, Rick Perry,brushed aside appeals from diplomats, top judges, senior military officers, the United Nations and former president George W Bush to stay Leal's execution because it could jeopardise American citizens arrested abroad as well as US diplomatic interests.
Leal, 38, was convicted in 1994 of the rape and murder of a 16-year-old girl in San Antonio. Few question that he was responsible for the killing but the Texas authorities failed to tell Leal, who was born in Mexico and has lived in the US since the age of two, that under the Vienna convention he was entitled to contact the Mexican consulate when he was arrested.