Thanks to European multi-party 'democracy', the True Finns' popularity has not materialized into true political will and power, they'll have to maintain their popularity in opposition as the new Finnish government comes into session, a government of big time losers in last the election. KGS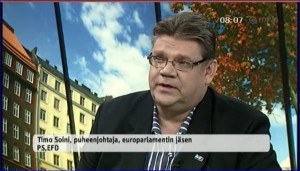 True Finns now biggest party
The True Finns are the biggest party in Finland, according to an opinion poll taken for YLE. The True Finns currently have 23 percent support, the National Coalition 21.2 percent, and the Social Democrats 18.1 percent.
Support for the True Finns rose by 2.4 percentage points since May. The National Coalition's support fell by 0.3 of a percentage point and support for the Social Democrats dropped by 0.7 of a percentage point.
Centre at historic low
Support for the Centre party is at a record low in the polls. Just 13.8 percent of those polled professed their support for the party, down half a percentage point on May.
The Left Alliance sees their support rise by three tenths of a percentage point to eight percent in June. They overtook the Green League, which slumped to 7.2 percent, down 0.4 of a percentage point since May. The Swedish People's saw a 0.2 percentage point fall to 4.1 percent, while the Christian Democrats' support fell 0.7 percentage points to 3.1 percent.
Pollster Taloustutkimus interviewed 2,913 Finns between 6-29 June. The margin of error is 1.6 percentage points.