Suicide bombers attack landmark hotel in Afghan capital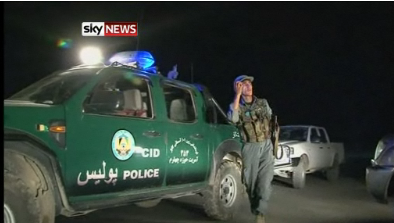 KABUL (Reuters) – Up to seven Taliban fighters, including suicide bombers, attacked a hotel frequented by Westerners in the Afghan capital late on Tuesday, Afghan officials said, before NATO helicopters killed the last three insurgents in a final rooftop battle.
Reuters witnesses heard at least seven blasts over the course of more than two hours, with bursts of gunfire heard during the late-night attack on the Intercontinental Hotel, one of two main hotels used by foreigners and Afghan government officials in Kabul.
The NATO-led International Security Assistance Force (ISAF) said there had been gunfire coming from inside the hotel. There was no confirmation of any civilian casualties.
"Two ISAF helicopters have just engaged three individuals on the roof," coalition spokesman Major Tim James said. "The indications are that the three individuals on the roof have been killed."
One Reuters witness said smoke could be seen rising from the hotel, although no fires were visible. Afghan security forces surrounded the hotel and firefighters arrived after the last of the insurgents were killed.