Esther from Islam In Europe forwards the following post. This piece of human excrement should be plucked from his apt. and forcibly parachuted into GITMO minus the silk. KGS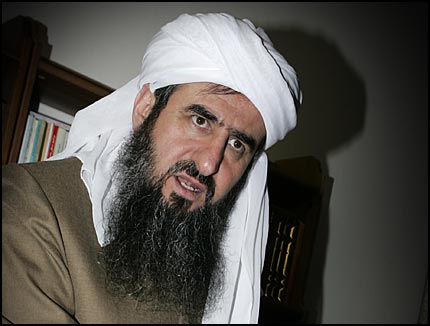 Mullah Krekar: I fight the West from my apartment in Oslo
In an interview to an Iraqi al-Qaeda channel, Mullah Krekar spoke of his life and activities in Norway. The interview was published June 10th, and was posted on various Jihadist websites.
Krekar explained that he participates in the battle against the West from his Oslo apartment. He also uses the opportunity to complain about life in Norway.
"For nine years I've been a hostage in my own house, without the most basic of rights owed to a living being. Without a residence permit, without a work permit, without a right to own anything, without a passport, without freedom of association."
He said that he used to work as an imam at an Oslo mosque, and that in the past nine years he's moved his activities to the internet.
"I opened a net-university, 150 are now taking the final exam."
He also established himself as an authority for his follows and answers questions on Islamic law (fatwas).
"I've given 10,000 sermons and 70,000 answers to questions on Islamic law." Which comes out to 200 fatwas a day.