MUSLIM LEADERS SEEN GRINNING
This goes part and parcel with the program/agenda of large Muslim international organizations like the OIC (Organization of the Islamic Conference) and Arab League in taking Islam off the radar screen. Islamic anti-Semitism is one such subject (as well as Islamic slave history) that they are loathe to have a light shine upon.
The OIC's top guy, Sec-Gen Ekmeleddin Ihsanoglu told the Tundra Tabloids face to face after the TT confronted him with it, that Islamic anti-Semitism is a myth. There is a concerted effort in the international arena to quash the entire subject. No one knows this more than David G.Littman, who confronted the UN over the issue time and again in its halls in Geneva, as well as Andy Bostom who has written an excellent book on the subject.
Shame on Yale for succumbing to the whining of these Muslim groups. KGS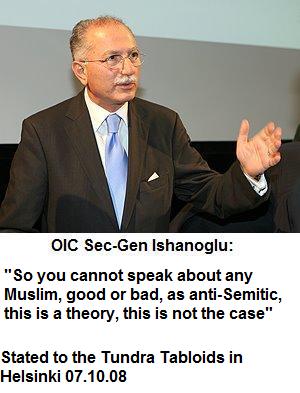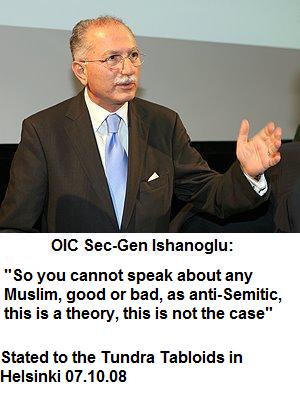 "Saving the Yale Anti-Semitism Institute –
Walter Reich (Washington Post)
Yale just killed the country's best institute for the study of anti-Semitism – the Yale Initiative for the Interdisciplinary Study of Anti-Semitism. Why? The answer is simple. The institute held a three-day conference last August on "Global Anti-Semitism: A Crisis of Modernity," where more than a hundred scholars delivered papers. Some spoke, inevitably, about the fastest-growing and most virulent manifestation of contemporary anti-Semitism – the anti-Semitism in the Arab/Muslim world. The conference provoked a firestorm. A Syrian American law student published a broadside in the Yale Daily News attacking the institute and the conference as fueling "anti-Arab bigotry and Islamophobia."
The PLO representative to the U.S. wrote to Yale's president accusing the conference of demonizing Arabs. Yale administrators and faculty quickly turned on the institute, accusing it of being too critical of Arab and Iranian anti-Semitism. A requisite five-year review of the institute was held five months after the conference. Its director was told that the institute would be shut down and its staff fired."