Islam has for over 1400 years has encouraged people to commit the worst brutalities ever known to mankind, and continues to do so on a regular basis. The Islamic slave trade involved more people and more deaths (many dying from castration) over a longer time span than in the West, and continues to encourage it in the present age. If not for the West, the Islamic world would have agreed to approve international anti-slavery legislation.
When viewed at closer range, Islam is a major supremacist, colonizing imperialist ideology, it's just they think it's all justified when it's the Muslim is doing it. The Islamic Arab states threw their weight behind Adolf Hitler during WWII, and behind the Communists during the Cold War. They have aligned themselves behind one tyranny after the other, because it's so damn familiar to them, and if given the chance, they would use nukes against the West, especially Israel.
Iran is ruled by a bunch of moronic, fanatical, genocidal ideologues and Ahmadinejad's words should be understood in that light. KGS
'60 years of Zionism brought only humiliation, destruction'
By HERB KEINON
06/15/2011 12:54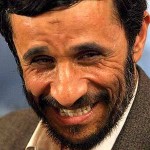 Ahmadinejad launches brutal attack on Israel at Asian security conference, saying Zionism is one of history's worst ills, also slams US, West for slavery, colonialization, World Wars, use of nuclear weapons.
ASTANA – Iranian President Mahmoud Ahmadinejad launched into a brutal attack of the West at a summit of the Shanghai Cooperation Organization on Wednesday, mentioning Zionism as one of history's worst ills.
He said that 60 plus years of Zionism has brought only humiliation and destruction to the Palestinians and the region.