The whole project is beginning to fall in on itself. Obama's war. KGS
Navy chief: Britain cannot keep up its role in Libya air war due to cuts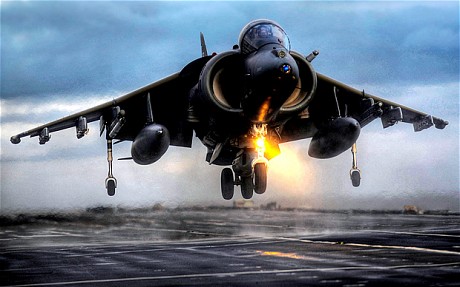 The British military intervention in Libya is unsustainable, the head of the Navy has said.
Adml Sir Mark Stanhope said the campaign would have been more effective without the Government's defence cuts.
The aircraft carrier and the Harrier jump-jets scrapped under last year's strategic defence review would have made the mission more effective, faster and cheaper, he said.
Sir Mark warned that the Navy would not be able to sustain its operations in Libya for another three months without making cuts elsewhere.
The First Sea Lord's comments will stir the debate over defence cuts that have left Britain without a working aircraft carrier and forced the Royal Navy's Harrier jump jets to be mothballed.
Highlighting military anger over the shrinking Armed Forces, another admiral warned that "comical" defence cuts would leave the Navy without enough ships to be effective.