The troubling thing here is, that 56% of his own constituents still want him to continue as their congressman. So it's highly obvious that the pervert Democrat rep has like minded supporters. Why should that surprise us that Leftists admire sick perverts? KGS
Weiner confesses he DID message 17-year-old girl… but denies 'explicit' relationship as police launch investigation
By FIONA ROBERTS and RACHEL QUIGLEY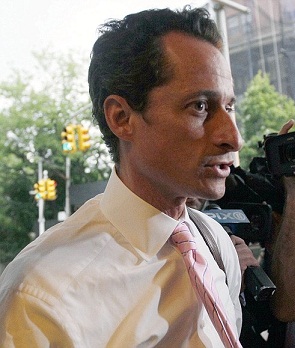 Last updated at 9:52 AM on 11th June 2011
Weiner admits he sent five messages to the girl


Police go to home of 17-year-old to question her over direct Twitter messages

Sources swear they were harmless

X-rated emails emerge in which Weiner allegedly arranged Skype session

Weiner has up to $15,000 in credit card bills to pay off – and no business to fall back on so cannot afford to quit

Poll reveals 56 per cent of his constituents believe he should stay
A police investigation is underway into the Weinergate scandal as it feared that one of the women he admitted to sending lewd messages to may have been underage.
Delaware police went to the home of a 17-year-old high school junior to speak to her about the direct online communications she has had with Anthony Weiner.
According to Fox News, the New Castle County Police Department arrived at the girl's home around 4:30pm and asked to speak with the girl's mother about the daughter's contact with Weiner. Fox had a reporter at the house when police arrived.