For all the brouhaha over the Arabs' threatening to go before the UN and demand a vote for the recognition of another 'Palestinian state' (Jordan is the other), the reality of it is, that it's highly unlikely it will ever happen. The US veto will by default render their attempt to circumvent UNSCR 242 useless. KGS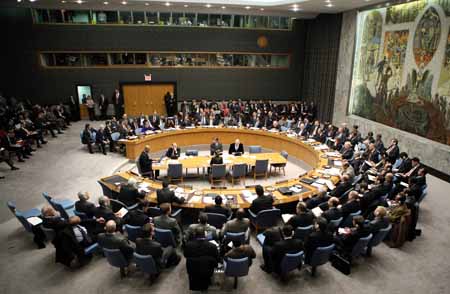 Palestinian state bid faces US veto at UN Security Council
By al-REUTERS
05/27/2011 23:04
UN General Assembly president says that if US uses veto, the GA would not be able to vote on membership for Palestinian state.
UNITED NATIONS – The Palestinians cannot circumvent the UN Security Council to avoid a likely US veto if they try to join the United Nations as a sovereign state later this year, a top UN official said on Friday.
But the official made clear a US veto would not put the issue of Palestinian statehood and UN membership to rest.
Some Arab diplomats in New York have suggested it would be possible for the Palestinians to bypass the UN Security Council and go straight to the 192-nation General Assembly to win approval for a planned UN membership application.
The UN charter says that new members are admitted by the General Assembly on the recommendation of the 15-nation Security Council, where the United Sates, Britain, France, China and Russia are permanent members with veto powers.
The current president of the General Assembly, Joseph Deiss of Switzerland, was asked by reporters if there was a way for the Palestinians to become a UN member state if its application was vetoed by the United States, which opposes the idea. Deiss said, "No."