This happened almost a year ago, and is just now being heard in the Snaresbrook Crown Court house. Fundamustard savagery over a non-Muslim teaching religious studies to girls. KGS
H/T: Scottish Infidel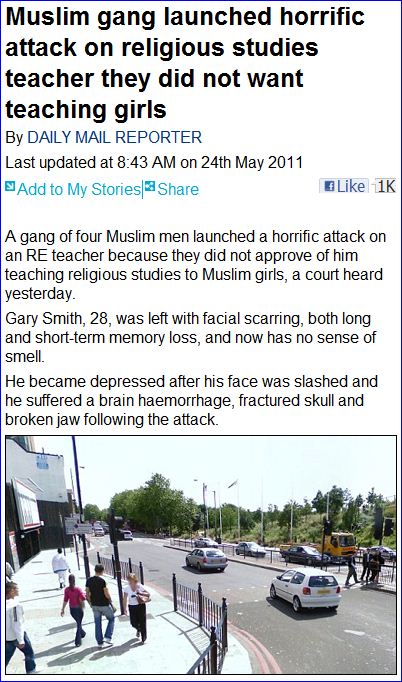 The men were said to have attempted the assault several times, 'lying in wait' for Mr Smith before successfully ambushing him on his way to work on July 12 last year.

The gang was recorded planning the attack by detectives who had bugged defendant Akmol Hussain's car over an unrelated matter.

They were taped saying they wanted to hit or kill the teacher just because he was the head of religious studies at the Central Foundation School for Girls in Bow, East London.

In one recording Hussain said: 'He's mocking Islam and he's putting doubts in people's minds . . .  How can somebody take a job to teach Islam when they're not even a Muslim themselves?'

Armed with an iron rod and brick, they punched, kicked and attacked Mr Smith, leaving him unconscious covered in blood on the pavement in Burdett Road, Tower Hamlets, East London.

Mr Smith was taken to hospital after he was found by two passers-by, and only regained consciousness two days later.