Stick in the fork, this bird is done. Seeing that the government will refuse to implement the changes demanded by Brussels, the only option left for Greece now, is for it to leave the Euro and resurrect the drachma. There problems will be far from over when they do, but at least they'll be able to manage their interest rates with the hope of clawing out out of their staggering debt. KGS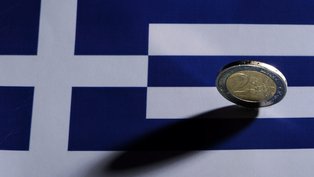 Greece running out of time, EU running out of patience
Katainen: Problem countries must put up collateral for credit
The European Union is running out of patience with Greece, which is struggling with severe economic difficulties.
The rest of the EU is accusing Greece of dragging its feet in implementing economic reforms. There were sharper tones than before on Tuesday at the meeting of EU misters of finance in Brussels.
Commissioner of Economic and Monetary Affairs Olli Rehn called on Greece to announce new efforts to balance its economy in the coming days – mainly balancing its finances and selling off its property.
"If Portugal and Ireland were able to do this, why can't Greece? This is not a question of a political game – it is the fate of a nation", Rehn said in Brussels.
Also urging Greece to do more was Germany's Deputy Finance Minister Jörg Asmussen.
Meanwhile, the government and opposition in Greece are at loggerheads over the extent of proposed cost cuts. Observers say that the government could collapse in the coming weeks.
Also in the coming weeks the EU should decide on whether or not to provide the EUR 50-60 billion that Greece might need.
Rehn said that the further credit would not be forthcoming unless Greece meets the conditions set for the previous loans, and builds a political consensus in the country.
A survey by experts of the European Commission, the International Monetary Fund, and the European Central Bank was to have been completed today, Wednesday, but Rehn says that it will take at least another week.
A privatisation programme worth EUR 50 billion is still in its early stages. Selling public property is important if Greece is to shake off its EUR 330 billion in debt.
"When measured in terms of property, Greece is one of the wealthiest countries. It is natural to first sell property and then to apply for help", says Finnish Minister of Finance Jyrki Katainen (Nat. Coalition Party), who represented Finland at the Brussels meeting.