FAT LADY CAUGHT SINGING.
This Euro train wreck in the happening is going to be a major disaster, we have warned that Greece will not mend its socialist 'sucking-on-the-government-teat' ways, after decades of "Marxist mind melding" of Greek society. The unions in the public sector will derail every plan to reign in government spending that keeps its over bloated bureaucracy chugging along. Now that other folks in Europe are footing the bill, the unions are more intransigent than ever. KGS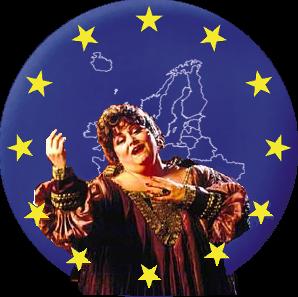 EU may ask investors to give Greece more time
May 17 12:58 PM US/Eastern
BRUSSELS (AP) – Greece's private creditors may be asked to give the struggling country more time to repay its debts, the European Union's top economic official said Tuesday, marking an important shift in the region's attitudes towards solving the crisis.
Until this week, European officials had denied that extending debt repayments had even been discussed, for fear of undermining market confidence. But many investors are convinced a change in Greece's debt deals is inevitable at some point.
"A voluntary extension of loan maturities could … be examined" together with asking banks and other investors to maintain their exposure to Greece, the EU's Monetary Affairs Commissioner Olli Rehn told journalists after a two-day meeting with European finance ministers.
Before any such move is considered, however, Rehn said the Greek government was expected to announce in coming days new spending cuts and reforms to make sure it can lower its budget deficit to the targets set out in its bailout program.
[…]
Greece's debt is expected to top 166 percent of economic output by the end of 2012, way above any other eurozone state. Few economists believe that it will ever garner the necessary economic strength to pay them off and warn that even a maturity extension and more bailout loans will likely not be enough.
Rehn reiterated his call for Greece's warring political parties to put aside their differences and focus on getting their country back on track—a demand that was quickly rejected by Greece's opposition leader.