POLITICAL AND PRIVATE LIFE MIRRORED.
The man's a socialist (read = soft tyranny statist), which in the Tundra Tabloid's opinion, is more than enough reason to remove him from the top post of the IMF, which he should never have been appointed to in the first place. If Strauss-Kahn is in fact guilty of rape, it shouldn't come as a surprise, statists like himself believe in rape as an effective, crucial tool in  carrying out their kind of socialist politics. KGS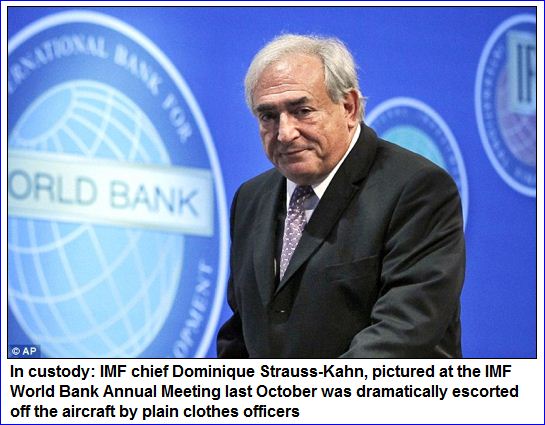 The Great Seducer: IMF chief is dragged off plane at JFK and charged over sex attack on maid in New York hotel
Charges have been brought against Dominique Strauss-Kahn

Air France plane was idling on tarmac getting ready for take-off
A potential challenger to French President Nicolas Sarkozy, and head of the International Monetary Fund, was hauled off a plane at New York's Kennedy Airport today, arrested and charged with a sex attack on a hotel maid.
Dominique Strauss-Kahn, 62, nicknamed 'The Great Seducer' in France, was about to fly to Paris when police boarded the Air France jet.

New York prosecutors confirmed that Strauss-Kahn has been charged with a criminal sexual act, attempted rape and unlawful imprisonment in the alleged sexual assault of a hotel maid in New York City, police said.