The Arabs refused an autopsy, so crucial evidence will be buried with the body. All that's left is the Arabs' story of which the international media will be more than glad to run with. KGS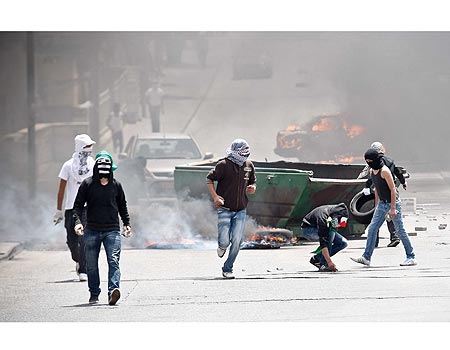 NOTE: This all happened during violent protests Arabs were initiated with their marking of the day of Israel's founding. They hate the Jewish state of Israel and want it destroyed.
Teen injured in J'lem 'Nakba' riots dies
Hospital says 17-year-old Milad Ayache died after suffering critical gunshot wound to the abdomen. Jerusalem Police confirms details, says family denied request for autopsy
Omri Efraim
Published: 05.14.11, 08:33 / Israel News
A Palestinian teenager injured Friday during a Jerusalem riot marking the Palestinian "Nakba," or "catastrophe" of Israel's inception, died Saturday, his family said.
The teen was identified as 17-year-old Milad Ayache. He reportedly suffered a gunshot wound to the abdomen during a riot in the east Jerusalem neighborhood of Silwan.
An orderly at al-Makassed Islamic Charitable Hospital in east Jerusalem, where Ayache was hospitalized, said that he died around 5am, while in the hospital's Intensive Care Unit. The orderly described the teen's condition as critical, adding that he died after having emergency surgery.
The Jerusalem District Police confirmed the details, adding that they had asked to autopsy the body, but were denied by the family.