Scottish Infidel takes note that "here's a time bomb joke in there somewhere." So lets hope that they bring in all the jihadis together to celebrate the new Islamic clock with one big collective bang. Since there have been many Islamic clocks launched over the past two decades, the picture below is totally justified. KGS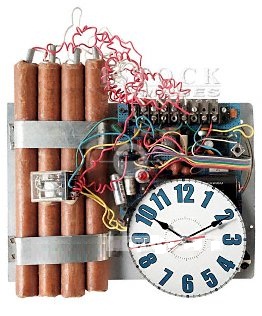 First Islamic clock launched at Interiors UAE 2011
A clock that combines local time with daily prayer times has been launched at the Interiors UAE 2011 show in Abu Dhabi by Smith of Derby.
The clock has geographic specific prayer time settings by city, and displays the five prayer times as well. It also comes with a 'call to prayer' sound system.
"Prayer clocks are vital in every Muslim's life, yet the design and quality available is poor and cheap," said Bob Betts, managing director, Smith of Derby.
"The clock celebrates faith in a different way. We are selling time as art," said Betts.
Smith of Derby, a 154-year-old timepiece company, has been involved in Middle East projects for 40 years, and has worked closely with Muslim advisors throughout the stages of research, development and production of the Islamic Clock.
The timepiece can be bespoke; size, materials, finish and use of precious gems, stones and precious metal plating can all be used.
"It's an exciting product developed by a British company for the global Muslim market," said Omar Faruk, founder, Eco-Muslim.
Prices for the clock starts at a staggering $30,000, with the final amount depending on the materials used in the finishing.