T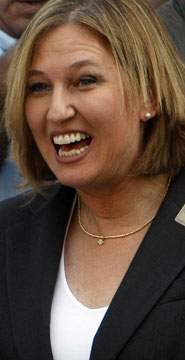 his is why "Tzipi" can't be taken seriously as a leader of Israel, there is nothing to be done in the way of making "peace" with the Palestinian. Both sides of the aisle in the Pali camp have nothing to gain from making peace, when their main goals are the destruction of Israel and continuing their dependency on international funding.
There is simply nothing to be done until the Arabs are forced to realize that Israel has indeed beaten them, and that they are made to feel subdued. Outside of that, any talk of peace is pure nonsense. KGS
NOTE: Read Barry Rubin's latest:
Livni slams Netanyahu's 'passivity,' calls for elections
By JPOST.COM STAFF
05/07/2011 17:41
Opposition leader Tzipi Livni on Saturday called for new elections as she slammed Prime Minister Binyamin Netanyahu for leaving Israel "weak and isolated as a result of his passivity" in the diplomatic arena with the Palestinians. Livni's comments comments came during an interview on Channel Two's "Meet the Press."
Livni addressed the recent reconciliation between Fatah and Hamas, saying Israel should agree to peace talks with the Palestinians, provided Hamas accept the Quartet conditions, "that Israel actually created under the Kadima government." The Quartet principles consist of recognizing Israel's right to exist, renouncing violence and respecting treaties previously signed by the Palestinians.
The Kadima leader said that Netanyahu's reaction to Palestinian reconciliation further pushed Israel into a corner. She cited the news that the European Union on Friday offered to increase aid to the Palestinians after the government announced that they would withhold the transfer of tax revenues to the Palestinian Authority in response to the Fatah-Hamas unity deal.
NOTE: The EU is a grossly immoral institution not only domestically, but also in its dealings with the mortal enemies of Israel.