SOME THINGS NEVER CHANGE.
Just because they're the favored pets of the left, it's okay to invite them, even though they belong to an organization that promote the genocide of the citizens of Israel. It's as immoral as the Swedish government funding for the speaking engagement of a PFLP terrorist, Leila Khaled, to speak at a May Day rally in Stockholm last week Sunday. And yes, it's all arranged by the lunatic Marxist Left with the blessing of the CDU. KGS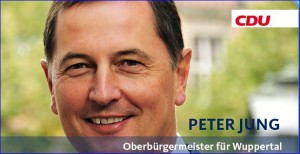 German mayor takes heat for 'Hamas' European event
By BENJAMIN WEINTHAL JERUSALEM POST CORRESPONDENT
05/08/2011 01:40
City-funded hall in Wuppertal to be used for "Palestinians in Europe" conference, at which Hamas fundraiser will speak, sparking criticism.
BERLIN – The decision of Mayor Peter Jung and the city council in Wuppertal, North Rhine-Westphalia, not to oppose a pro-Palestinian conference on Saturday that featured Hamas supporters has sparked criticism.
The conference, which was green-lighted by the Wuppertal Municipality in January, took place in a city-funded convention center.
"There is nothing wrong with holding a pro-Palestinian event, of course, but there is something quite disturbing that the organizers saw the need to invite several extremist speakers, including apologists for terrorism, and those with views that many find repugnantly anti-Semitic such as [Bundestag deputy] Inge Höger – especially since the conference is in Germany, of all places," British-born journalist and Middle East expert Tom Gross told The Jerusalem Post on Saturday.
Gross was formerly Jerusalem correspondent for the Sunday Telegraph and for the New York Daily News.
"Pandering to extremists does nothing to advance peace and prosperity for Palestinians and Israelis, or bring us any closer to resolving this conflict amicably," Gross said.