There are Germans who refuse to see the writing on the wall. They keep playing around with this anti-Semitic immigrant group and one day they'll achieve supremacy in numbers, and then really turn their attention on the minority host culture and the rest of its tiny minorities, including Jews. Good bye liberal Germany, hello tyranny once again. KGS
NOTE: I hear that there are 120 mosques already and around 170 more to come.
H/T: EuropeNews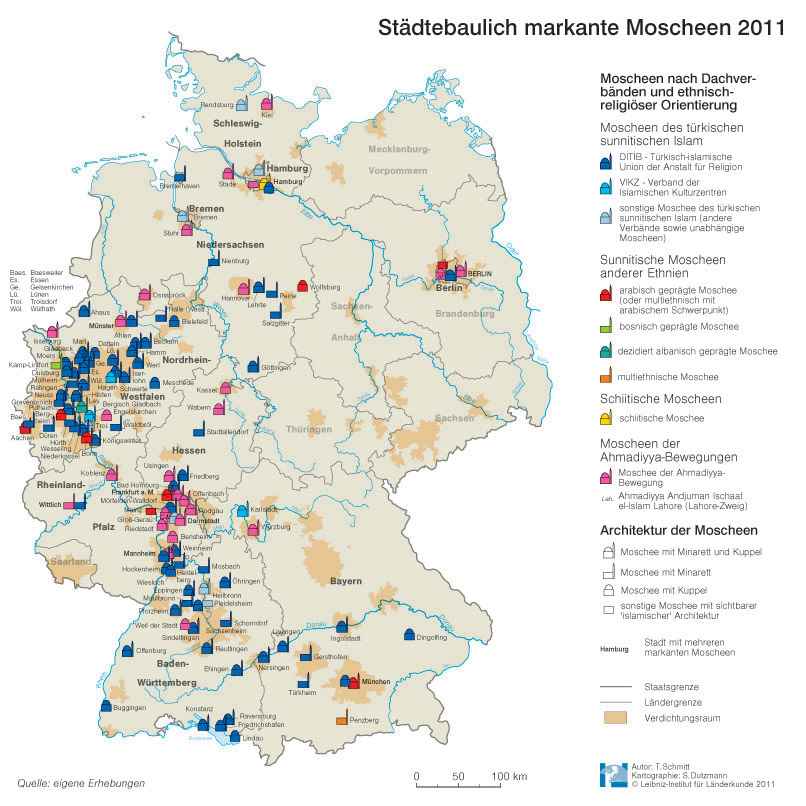 Mosques belong to Germany
EANN: The construction of new mosques almost always makes for much controversy. This Islamic houses of worship have long been part of Germany. Where minaret and dome fellow Muslim call to prayer, showing the current map of Leibniz Institute of Regional Studies. Dr. Thomas Schmitt of the Max-Planck-Institute for the Study explains Religious and Ethnic Diversity Facts and background.
More than 120 mosques, represented by minaret or dome for all to see, that are currently in Germany.
Most are in the industrial conurbations of the Rhine and Ruhr, Rhine-Main region and in the Rhine-Neckar region. Documenting the current map of Leibniz Institute of Regional Studies, which is now on the National Atlas to date "(http://aktuell.nationalatlas.de) is available. The reason for the regional concentration is obvious: It is the result of labor migration from Islamic countries, especially Turkey – although there have been in Germany before the immigration mosques, the oldest is a construction of the Ahmadiyya movement in Berlin Wilmersdorf in the 1920s.
In many major German cities, the Muslim faithful, however, still looking in vain a mosque with a minaret and a dome above the prayer room. Much more often find they are in medium-sized and sometimes in small towns, there is hardly in the centers, but often in residential areas of the period or even in a commercial environment. From an urban planning point of view about deadlines many mosques are still in the shadows.
This is the conclusion Dr. Thomas Schmitt is based on his research. The scientists from the Max-Planck-Institute for the Study employs Religious and Ethnic Diversity in Göttingen for many years with the subject mosques in Germany and has contributed to the explanatory text to the current IfL card.
Another aspect that makes the IfL card using color signatures visible at a glance: membership of the mosques to various governing bodies or the ethnic and religious orientation of the respective carrier association. For most of the mosques in Germany therefore draw local clubs in the Turkish-Islamic Union for Religious Affairs (DITIB) and the Ahmadiyya movement responsible. not included on the maps, the many so-called store-and backyard mosques in converted buildings without clearly visible architectural symbolism.