MAROONS.
Sweden prepares to lunge off the cliff without looking back. Finns stand by and look in amazement. Finns were the number one immigrant group in Sweden for decades, but yet the Swedish government never bothered to discuss making Finnish a second language, let alone celebrating a Finnish holiday in Sweden. KGS
H/T: EN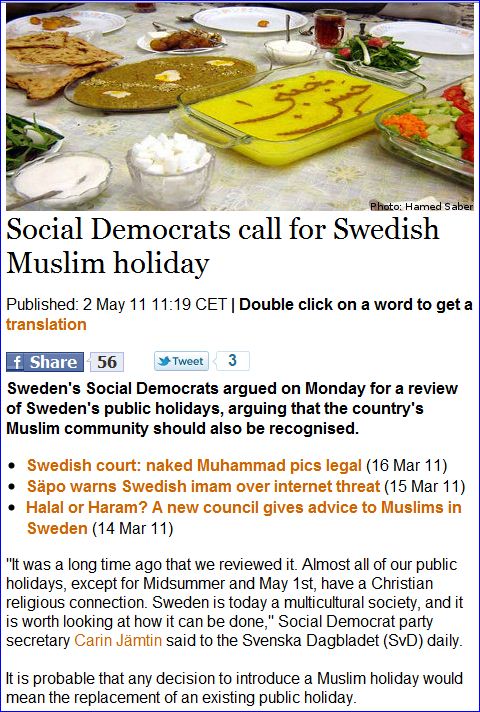 Carin Jämtin stated that the party does not believe that it is possible to add to the current number of public holidays, but was unwilling to speculate on possible alternatives.

Jämtin was however prepared to offer a suggestion on which day could serve as a Muslim holiday.

"One could consider whether Eid, the Muslim Christmas Eve, could be a public holiday," she said, referring to Eid-al-Fitr, the feast at the end of Ramadan, the holy month of fasting.

The Swedish Humanist Association (Humanisterna) described the idea to introduce a Muslim holiday as "absurd".

"Most people in Sweden are secularised. For example they don't celebrate Christmas for Christian, religious reasons. It is simply an occasion to meet, eat good food and socialize. The same is the case for Muslims," said the association's chairperson Christer Sturmark.