The following story, that may or may not, be of any significance in the near future, but interesting nonetheless. According to a press release, Emergent BioSolutions INC. is going to sell to the US government over a 100 million dollars worth of anthrax vaccines, just a day after the killing of Osama Bin-Laden.
Happen chance?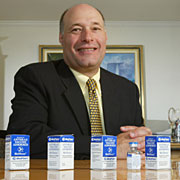 What makes this all the more interesting is that the CEO is one, Fuad El-Hibri, a Muslim born in Germany who spent part of his childhood in the ME and in the US, and who has established a $15 000  El-Hibri Peace Education Prize in his name, with the first recipient of the award being Syrian professor, Abdul Aziz Said.
Mr.Said happens to be someone who believes in the Al-Andalus myth, which is supposedly the prime example of the "Three Abrahamic Faiths" living in peace an harmony. He also believes (the highly anti-Semitic) the Arab League and the Organization of the Islamic Conference would be excellent vehicles for helping Muslim-Western relations and helpful in dispute resolutions and conciliations. How painfully grotesque.
Decide for yourself whether Fuad El-Hibri warrants a closer look, but you will have to admit the irony of a Muslim selling to the US government anthrax vaccines in case of a Muslim terrorist anthrax attack. KGS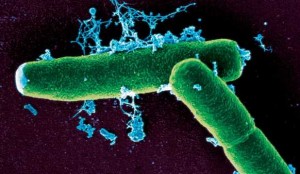 U.S. Government Expands BioThrax Procurement Contract to 17.92M Doses from 14.5M Increasing Contract Value by up to $101 Million
ROCKVILLE, Md., May 02, 2011 (BUSINESS WIRE) — Emergent BioSolutions Inc. (NYSE:EBS) announced today that it has signed a modification to its current procurement contract (200-2009-30162) with the U.S. government to supply an additional 3.42 million doses of BioThrax(R) (Anthrax Vaccine Adsorbed). BioThrax is the only vaccine licensed by the U.S. Food and Drug Administration (FDA) to protect against anthrax infection.
This modification to the contract is valued at up to $101 million for the delivery and shipping of additional doses of BioThrax beginning 3Q 2011. Delivery of these doses will commence immediately following early completion of final delivery of the original 14.5 million doses of BioThrax under the contract prior to this modification. Emergent anticipates completing all deliveries of these additional 3.42 million doses of BioThrax during the remainder of 2011.
"Emergent proudly supports the U.S. government's efforts and unwavering commitment to meet its stated need of 75 million doses of anthrax vaccines," said Fuad El-Hibri, chairman and chief executive officer of Emergent BioSolutions. "This contract is an indication that BioThrax remains a critical component of the government's arsenal of biodefense medical countermeasures. In addition to this contract modification, we are continuing discussions with the U.S. government regarding a follow-on procurement contract, which we anticipate will cover a multi-year period."