The arrogance of the director is as obnoxious as it is condescending. Like Nigel Farage once asked in the EU House of Parliament in Brussels of EU Finance Commissioner, Olli Rehn and commission president,José Manuel Barroso,  "Just who in the hell do you people think you are?!" Get that folks? If you do not jump when they say jump, they'll make things very difficult for you, until you get your mind right that is. KGS
H/T: Kumitonttu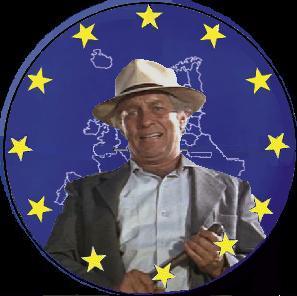 "What we have here is a failure to communicate!"
EU researcher: Finland will pay a heavy price if they back out from assistance to Portugal.
Helsingin Sanomat: True Finns chairman Timo Soini arriving at a briefing told that the True Finns is not going to support the Portugal package.
Forming the Portuguese rescue package without Finland is quite possible, but Finland would probably pay a heavy political price for opting out, surmises the Brussels-EU Institute Director, Daniel Gros.
Centre for European Policy Studies, a leading institution Gros, Finland,'s portion in the Portugal sharepackage is so small that the package is easy to get together without them.
"Technically and economically Finland's withdrawal is possible, but politically the issue is much trickier. Such freeloading seriously erodes the EU's unity, " Gros said to the STT.
'The Euro Game Is Up! Just who the hell do you think you are?' – Nigel Farage MEP