The TT didn't know that the police were busy arresting mustard perps left and right. Good show. Jones is right on about the US constitution trumping sharia law and the koran. KGS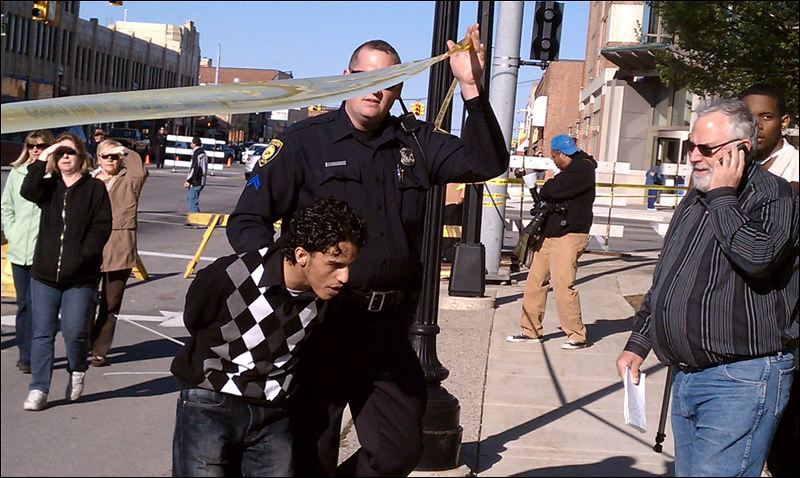 Protesters rush Jones at free-speech rally
Pastor in Qur'an burning draws foes
DEARBORN, Mich. — The Rev. Terry Jones' rally for free-speech rights at Dearborn City Hall Friday night degenerated into chaos as several hundred protesters broke through police lines and rushed toward the controversial Florida pastor.
The outburst occurred about an hour into Mr. Jones' Stand Up America Now protest on the steps of city hall, which had a large American flag flying over its cupola under clear blues skies.
When the minister removed a wireless microphone from the podium and strode down the steps toward Michigan Avenue, a crowd of about 600 that had been restricted to a sidewalk across the street broke through wooden barricades and Dearborn police, storming across the busy four-lane road.
Mr. Jones began reciting the Pledge of Allegiance over and over as riot police swept into the crowd and slowly pushed the anti-Jones protesters back across the street.
The angry protesters threw shoes and bottles, tossed cups of liquid, and shouted at Mr. Jones and his group of about 50 supporters, who stood behind a separate police barricade in front of city hall.
Nobody was hurt in the fracas, but police took away several anti-Jones protesters, their hands cuffed behind them with plastic zip-ties.
Via: TROP