The apologists will tell you it's all due to "extremists", but the truth is that these religious minority communities have always lived under the shadow of fear of the Muslim majority. Early on children are schooled by their parents on what to say and what not to say in order to overt bloodshed in their family and community. They all know the official line to follow as subjects to the ruling Muslim mob mentality. To say otherwise is sheer naiveness. KGS
Low-key Easter preparations for Pakistan's Christians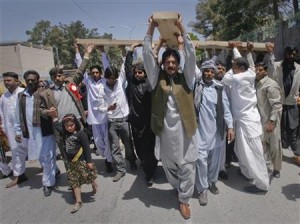 (al-Reuters) – Christians in the small Pakistani town of Gojra are making low-key preparations for Easter this year.
Residents of the neighbourhood, known as Christian Colony, in the town in Punjab province, are haunted by memories of a 2009 attack by a Muslim mob in which seven members of a family were killed and dozens of houses torched.
[…]
"FEAR IN THEIR HEARTS"
In Gojra's Christian Colony, the level of fear has increased since the sentencing Monday of a Muslim to death for shooting dead two Christians who had been accused of blasphemy.
Rather then welcoming what some people might see as justice, Christians fear that if the sentence is carried out, it will only mean more trouble for them.
"Things will only get worse. If one is punished, someone else will stand up to take revenge for him," said housewife Shahida Kashif.
"My kids still get scared whenever there's a small disturbance. They says 'mother, they've come. They'll set fire to our houses again'. They still have fear in their hearts," she said, referring to memories of the 2009 riot.
A mob of about 1,000 Muslims, incensed by rumours that a Christian had desecrated the Koran, rampaged through the neighborhood, firing guns and throwing petrol bombs.
Hameed Pannum Khan was shot dead and six members of his family, including two women and two children, were burnt to death when their hut was torched.
Authorities blamed militants linked to al Qaeda and the Taliban for the violence.