Goodbye Britain, it was nice to know you. KGS
NOTE: It goes hand in hand with Prince Charles' desire to be known as the "Defender of Faiths". Pure buffoonish idiocy.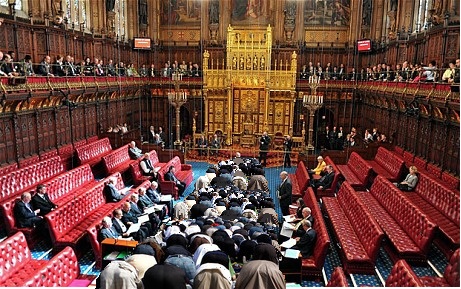 David Cameron studies plans for multi-faith Lords
David Cameron is considering plans to create a "multi-faith" House of Lords where Muslim imams could sit alongside Anglican and Catholic bishops.
By 
Melissa Kite
, Deputy Political Editor 9:00PM BST 23 Apr 2011
The controversial suggestion is revealed in a paper drawn up by Tory officials which calls for a wide range of different churches to be represented once reforms to the Upper House are carried out.
Currently 26 Anglican bishops have seats in the Lords. But Nick Clegg, the Deputy Prime Minister, is drawing up a draft bill setting out wholesale changes to the Lords that are expected to include provisions for hundreds of existing peers, including the bishops, to be evicted while at least 80 per cent of new members are elected.
The paper, produced by the Conservative Christian Fellowship, says: "Christians need to enter the debate and make it clear that we value the presence of the Lords Spiritual, but this doesn't have to mean unquestioning support for the status quo.
"There is a strong argument that our legislature would also benefit from the wisdom of leaders of Baptist, Catholic, Methodist and black-led congregations.
"A broad bench of Lords Spiritual drawn from a range of churches in Britain could provide a powerful vision of unity."