Hugo Chavez and Ahmadinejad, despite their smiles, are hardest hit by the news. KGS
NOTE: The QAIA should be given a ticket to Ramallah to parade their wares there.
Queers Against Israel Apartheid quits Toronto parade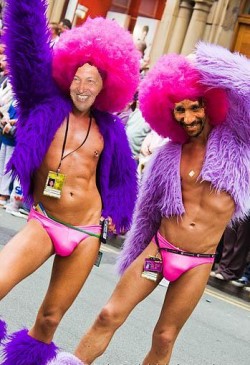 (JTA) — Queers Against Israeli Apartheid said it will not participate in the Toronto Pride Parade.
The group, which has raised controversy with its planned participation in the parade, was announced its decision in an April 15 news release.
Mayor Rob Ford said on the same day that the city should withhold the funds until after the parade to ensure that Queers Against Israeli Apartheid does not actually march. Ford has said he would withhold city funding from the parade if the group participates.
Pride Toronto received $123,807 from the city last year.
Toronto's city manager said in a report that the group's participation does not violate the city's anti-discrimination policy, allowing the city to go forward with providing funding for the 2011 event. The city said it would fund the parade as long as all of the groups participating adhered to the city's anti-discrimination policy.
Queers Against Israeli Apartheid's withdrawal was presented by the organization as a "challenge" to Ford. The organization said it will hold its own event this week.
H/T Benny