Ahh, Israel's partner in peace.
The whole flotilla scheme is about delegitimizing Israel on the world stage, not about "aid", seeing that there's no humanitarian crisis whatsoever in the Gaza Strip. The legal anti-weapons blockade is in force to head off weaponry that will most certainly be used against Israeli civilians.
So in essence, what these "aid" flotilla activists are actually doing, is helping to secure the right for Hamas to import any kind of weaponry it can lay its hands on, which inevitably takes aid away from its own citizens, the very thing these clowns claim to be doing with these flotillas. See how cynical and hair-brained their thinking is?
If they really wanted to help Arabs in Gaza, they would be campaigning against the genocidal terrorist Hamas, while delivering aid through the Israeli-Hamastan border. The aid would go unhindered, there wouldn't be any need to arrange expensive high profile flotillas, all the aid could be shipped by air or by freighter to Israel and transfered via truck to the Strip. But that's not what they actually want, now is it? KGS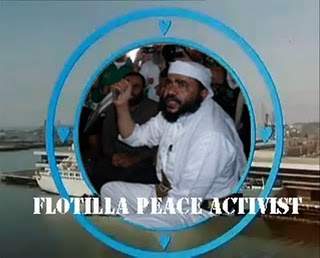 Fatah May be on Next Flotilla, Says Official
by Elad Benari
Nabil Shaath, a member of the Central Committee of the Fatah party led by Palestinian Authority President Mahmoud Abbas, said on Thursday that Fatah members will be a part of the next flotilla to Gaza.
During in an interview with the A-Shamsradio station broadcasting from Nazareth, Shaath said that Fatah supports all popular or international activities aimed at lifting the siege being imposed on Gaza.
Shaath made ​​it clear during the interview that Fatah did not participate in the flotillas until now, but that it supported last May's flotilla.
He said that Abbas has given PA "citizenship"  to all those who participated in last year's flotilla. As to whether he himself will participate in the next flotilla, Shaath said that he would be honored to do so, but that it currently is not on the agenda.
The Turkish-based IHH terror group recently confirmed that the Mavi Marmara will serve as the flagship of the second flotilla, known as the "Freedom Flotilla 2".