Really! KGS
THE SAUDI NOOSE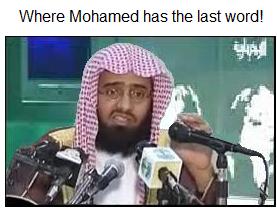 TSN: Everyone know that the age old Saudi remedy in getting rid of jinns is by opening a koran! It's the same with Jews, Christians and other infidels.
Genie blamed for fall of three girls at wedding
By Staff
Published Wednesday, April 20, 2011
Three girls fell down from a wedding platform in a packed hall in Saudi Arabia, scaring off guests and prompting relatives to replace songs with verses of the holy Quran to expel what they believe were jinn (genies).
The bridegroom instantly shouted for the band to stop the music and turned on Quran verses when his sister who was sitting near him fell off the platform.
A few minutes later, his sister in law fell off and was later followed with his cousin, to the shock of the guests who fled the wedding.
"Songs were replaced with Quran verses and all guests left the wedding immediately as it was believed that the girls' fall was caused by jinn," Kabar newspaper said in a report from the western Red Sea port of Jeddah.