Oh, the EU big wigs are already talking about how they need a way to bypass the Finnish voters and fund the Portugal aid package nonetheless. You see folks, the Eurocrats care not for their own rules nor for public opinion, and the sooner everyone in Europe figures that out, the sooner those that prop it up will be defeated in the polls.  KGS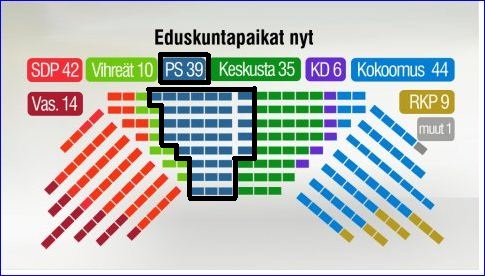 Timo Soini addressing supporters Sunday evening.
YLE: True Finns Chairman Timo Soini was met by cheers and applause from party members at a post-election victory celebration in Helsinki.
"Good friends, it was a big upset! Political history has been made."

He told supporters that it is worth believing in one's cause and hold to one's path, even at the risk of being ridiculed.

"The True Finns gained a representative from every electoral district."

"We won both the elections and the polls," Soini shouted over the cheers of his audience. "We know that miracles happen, when you make them happen."

He thanked supporters for backing him through good and bad times during his close to 14 years heading up the party.

"Today is payday!" he exclaimed.

Soini also said Sunday he wanted to see new negotiations on a bailout package for euro member Portugal. Asked by Reuters whether the True Finns would push for new discussions over a deal for Portugal, Soini said: "Yes of course… It is a bad deal."
Here is what the British BBC reports: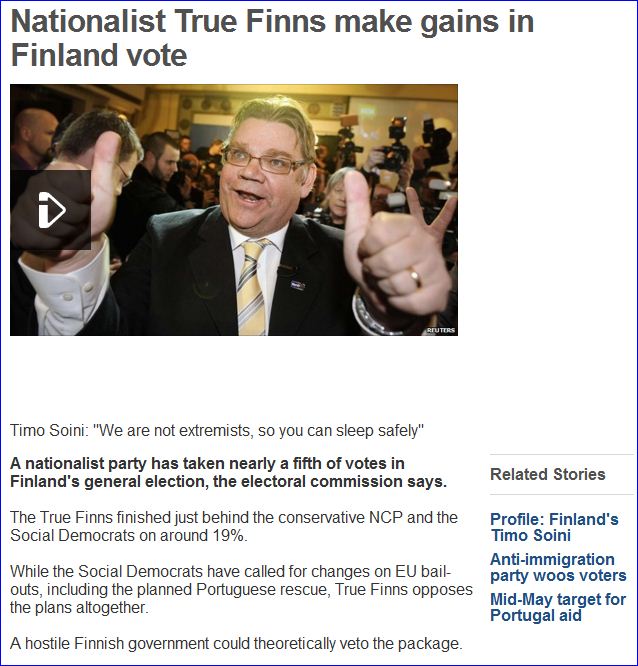 Unlike other eurozone countries, Finland's parliament can vote on whether to approve the measures.
Correspondents say the increased sway of Euro-sceptics in Finland's parliament could hold up any further bail-out deals.
As the biggest party, the NCP is tipped to lead the next government with former Finance Minister Jyrki Katainen likely to become prime minister of whatever coalition emerges, replacing Mari Kiviniemi of the Centre Party.
'Invitation to talks'
The anti-immigration True Finns won 39 seats in the 200-member parliament, final results showed.
Why Elections in Finland Could Doom Portugal's Bailout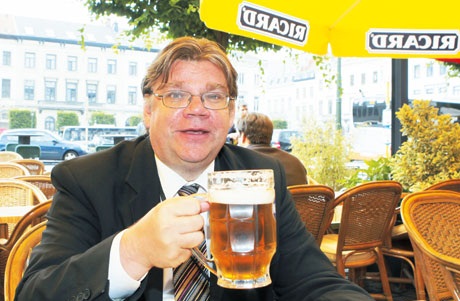 Europe has suddenly begun paying attention to Timo Soini.