Just like in Norway, the radicalized Left knows it has the backing of the political powers that be, and can pretty much do whatever the hell they want to without too much fear of being prosecuted for it. It's democratic Stalinism.
The best way to handle any political debate is in an open forum, and let the merit of the argument win the day, but that's not how Leftists work, whether they be hard line international or ultra-nationalist socialists. There's no debate, they've already settled that for us, anything thing that runs counter to the accepted way of thinking is antagonistic and to be met head on with fists, bottles and bricks.
The Sweden Democrats are nationalist, or in American terms, patriots, people who insist wanting to remain Swedish within a distinct Swedish cultural society. It's their country for crying out loud, and anyone allowed to live their should be grateful for the privilege and strive to become more Swedish than the Swedes. KGS
NOTE: In Europe it's called multiculturalism, anywhere else in the developing world it's called imperialist colonialism.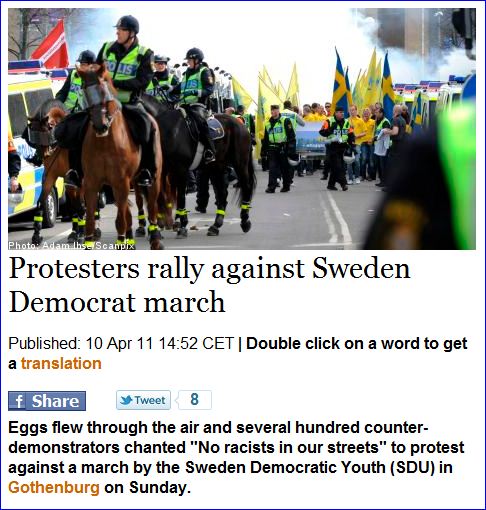 The group of counter-demonstrators began to gather at 1pm outside the city library in central Gothenburg at Götaplatsen.

A short while later a white bus rolled up to Götaplatsen and out stepped several people from SDU dressed in yellow shirts and carrying Swedish flags.

Counter-demonstrators stood up immediately and started chanting "No racists in our streets!"

All of Götaplatsen was blocked just before the 2pm start of SDU's scheduled demonstration.

The Sweden Democrats' youth league organised Sunday's demonstration to protest against what the group perceives as "anti-Swedish" currents in society.

"We are demonstrating against anti-Swedishness in general, something which is characteristic of society," SDU leader William Hahne told The Local ahead of the rally.

There was about 30 metres between counter-demonstrators and SDU representatives with police officers and barricades standing between the two groups, reported the TT news agency.

Shortly after 2pm, SDU began their march from Götaplatsen along Avenyn toward Kungsportsplatsen.