Don't say that the Tundra Tabloids didn't warn you. The key principle player in the "Finnish pastor being persecuted by the Finnish state for calling a Chechen terrorist a terrorist" is, Johan Bäckman, a Finnish Marxist pro-Russian academic who supports sharia law in the West. To put it bluntly, he's a loon, as well as his merry band of Marxist misfits which includes the Finnish pastor, Juha Molari and Abdullah Tammi. KGS
NOTE: Bäckman appears around the 1:30 mark
H/T Vasarahammer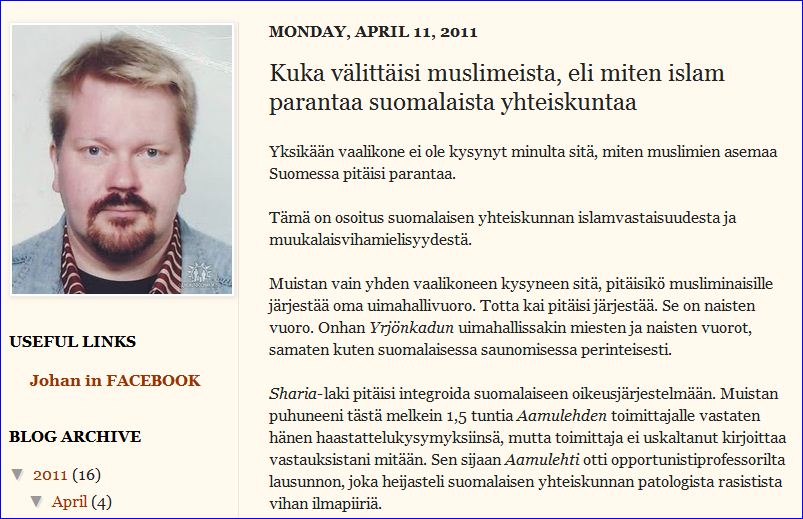 Who would care about muslims, that is: how Islam improves Finnish society
In the run up to elections no one has asked me how the role of Muslims in Finland should be improved.
This demonstrates Finnish society's Islamophobia and xenophobia.
I only remember one question on whether Muslim women should organize their own swimming pool hours. Of course they should. It is the women's turn. After all, on Yrjönkatu Street there is alternate swimming for men and women, similarly as in Finnish sauna bathing tradition.
Sharia law should be integrated into the Finnish legal system. I remember talking about this for almost 1.5 hours with a Ammulehti newspaper journalist, corresponding to his interview questioning, but the journalist did not dare to write a reply to anything. Instead Aamulehti took opportunist professor's opinion, which reflected Finnish society's pathological, hatred, racist atmosphere.
Sharia law can be found in of course, customary law, which complements the already available arbitration institution. Or why not now, that the district court could  handle any written statement from a Muslim's Imam, which evaluates the relevant terms of the Shariah. A Finnish judge may consider the matter how sees fit.
In many Arab countries, the Shari'a has a place alongside a secular legal system. Great Britain already has Sharia courts in use.
My thesis is this: Islam, improves and develops Finnish society. There is a lot of  good in Islam's traditions. For an example, Islam protects women, and is opposed to western capitalism, which subjects women to pornography and prostitution. Sharia Law also has many important economic protective features for women.
They say what they say, but I dare say that a Muslim woman can be mentally and physically better than a western woman who does not really know who she ultimately is.
Finland and the role of women in Western countries is, in principle, much worse than the Islamic legal system in support of states, especially in women's economic role.
[…]
Sharia law is an old customary law, which inspires confidence. Shariah, of course, toughest form has features that can not be imported into the Finnish legal system. This is just criminal law. Instead, family law and inheritance law rules may be brought into the mediation system. Sharia-based mediation is always voluntary.
Finland must build more mosques. If almost every town in the Finnish Orthodox Church is cute, why not a mosque. It would be a beautiful cityscape.
NOTE: This is the ravings of a lunatic Marxist and one of the principle backers of the Finnish pastor, Juha Molari. Also having a helping hand is Abdullah Tammi, and they all are running for office on a Marxist ticket. Pure looney tunes.
NOTE: Vasarahammer has the following to say in the comments:
What the Finnish minority ombudsman is doing to Molari, is wrong, stupid and misguided.
However, Molari is part of the same small group (Finnish Anti-Fascist Committee) as Bäckman. This group exists to promote the interests of Russian government against Kavkazcenter website, the Baltic states or any other cause deemed against the Russian interests.
The reason why Bäckman supports sharia law is the fact that Russian government is appeasing islamists by allowing the Russian-supported leader of Chechnya, Ramzan Kadyrov, to introduce sharia law in the autonomous republic. This violates the Russian constitution and will not do any good in the long run, but it is the current official policy of Russia and is therefore supported by Bäckman and the Anti-Fascist committee.