750 000 people hiding out in bomb shelters, what nation would allow for such a thing to continue without a response to end it? That was a rhetorical question, no nation -with the ability to act- would allow for it to continue. The Arabs are once again setting the stage for yet another confrontation with Israel, and remember folks, it's entirely all of their (the Arabs) own doing. KGS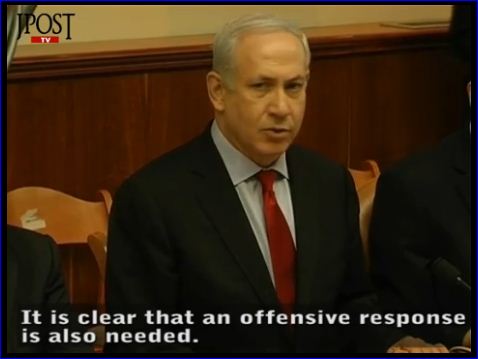 Barak: 750,000 citizens in bomb shelters is unacceptable
By JPOST.COM STAFF
04/10/2011 15:55
Netanyahu warns that Iron Dome isn't a complete solution for Gaza attacks; US to transfer additional $205m. for more Iron Dome batteries; PM promises "much harsher" response if citizens attacked.
Defense Minister Ehud Barak on Sunday said that "Hamas, from our point of view, is responsible for everything that happens in the [Gaza] Strip and for all of the [terrorist] organizations that operate there."
Speaking at the weekly cabinet meeting, he added, "we will not accept actions that harm our citizens, actions like the firing on the bus, or attempts to put three-quarter of a million citizens in bomb shelters." The defense minister was referring to an incident on Thursday when an anti-tank missile was fired at a school bus, leaving a 16-year-old in critical condition and the firing of over 120 rockets and mortar shells over the weekend.
[…]
Prime Minister Binyamin Netanyahu on Sunday lauded the Iron Dome anti-rocket system's successes, while cautioning that it is not a complete solution to the problem of Hamas's offensive against Israel from the Gaza Strip.
Speaking at the weekly cabinet meeting, the prime minister said that "IDF had two major achievements in the past few days, one on the area of defense, the other in offensive operations.  In the area of defense, Israel scored a significant and impressive success when the Iron Dome system intercepted missiles."
He said that despite the achievement's significance, "it is clear that it is only a partial response.  It is clear that an offensive response is also needed."
Despite calls coming from both Hamas and Defense Minister Ehud Barak for a ceasefire, Netanyahu reiterated that the IDF would not tolerate attacks on Israeli citizens, and would respond fully. "If Israeli citizens continue to come under attack, the response will be much harsher would be harsh." Netanyahu said.