Hamas is looking for a showdown with Israel, there is no other way to interpret their ramping up of the violence. The only thing left to ponder is whether the Hezbollah will once again launch missiles into Israel in an almost exact replay of a few years ago. KGS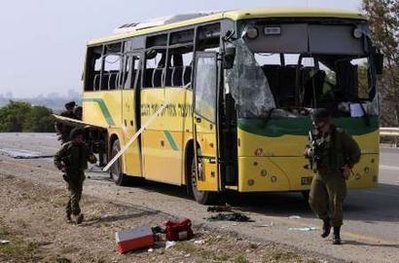 PM: IDF will act determinedly against bus attack culprits
By JPOST.COM STAFF
04/08/2011 11:58
Netanyahu says bombing "crossed line," attackers have "blood on their hands"; Palestinian sources: IAF kills 3 Palestinains near Khan Younis; 4 injured from IDF tank fire in southern Gaza Strip.
Talkbacks (12)
Prime Minister Binyamin Netanyahu said Thursday that Friday's school bus attack "crossed the line," and adding that "the IDF acted immediately last night and would continue to act with determination."
Speaking from a meeting with the Czech president, Netanyahu commented that "whoever tries to hurt and murder children: the blood is on his hands."
Sixteen mortars exploded across southern Israel Friday, Israel Radio reported. One mortar exploded in a chicken coop in the Eshkol Regional Council.
The explosions occurred in the afternoon hours, and schools held students from returning to their homes until the attacks passed.
The explosions caused no casualties.
Friday morning, three Palestinians were killed as a result of an Israeli air-strike on a terrorist cell in the Gazan village Haza'ae, near Khan Younis in the Gaza Strip, Palestinian sources reported. Among the dead were one woman, her daughter, and a third man.
The IDF said that in response to rocket fire from deep inside a residential area in southern Gaza, IAF air craft struck two terror cells. According to to the Palestinian media source, an Israeli aircraft struck a group of civilians.
Four people were also injured by IDF tanks in the area surrounding the Daaniya airport in the southern strip, Army Radio reported.