This is why Israel maintains its legal anti-Weapons blockade on Gaza that the Leftists are so keen on breaking. KGS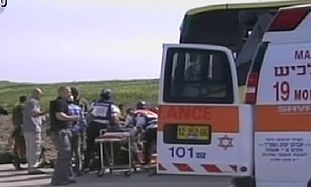 Boy, 16, critically injured as Gaza missile hits bus
By JPOST.COM STAFF
04/07/2011 15:43
Driver also lightly injured as anti-tank missile explodes outside Kibbutz Sa'ad in Sha'ar Hanegev; MDA attempts to revive 16-year-old; missile lands hours after IAF bombs 2 smuggling tunnels in northern Gaza.
An anti-tank missile shot from the Gaza Strip exploded near a school bus outside Kibbutz Sa'ad in the Sha'ar Hanegev Regional Council on Thursday, injuring two people.
The 16-year-old was in critical condition after paramedics managed to resuscitate him. He was airlifted to Soroka Medical Center in Beersheba. Magen David Adom relayed that the boy was struck in his head by shrapnel from the missile.
The bus driver was listed in light condition. They were the only people on the bus.
Police sealed off roads in the area due to the threat of additional projectile fire. Civilians in the area were asked to remain in their homes.
The missile came several hours after the IAF struck three smuggling tunnels in the southern Gaza Strip and one tunnel in the northern area of the Strip.
The IDF spokesperson said that the forces recorded direct hits in the strikes which came in response to anti-tank missiles fired into Israel.
The IDF also recently installed the Iron Dome counter-rocket defense system in Ahskelon and Beersheba.
UPDATE: Joe Settler at the Muqata reports:
Update: 4:54 PM As part of this terror attack, over 16 Gaza-fired Rockets have landed in the Israeli areas surrounding Gaza.
Update: 4:58 PM Channel 2 reports the IDF is shooting back, firing artillery into Gaza. Reports from Gaza of dead and wounded in IDF strike.
Update 5:03 PM IDF has closed road 232 (inside Israel) to all civilian traffic due to ongoing rocket attacks from Gaza.