These pirates should be treated like in times of old, a quick trial and to the gallows they go, end of story and end of piracy. KGS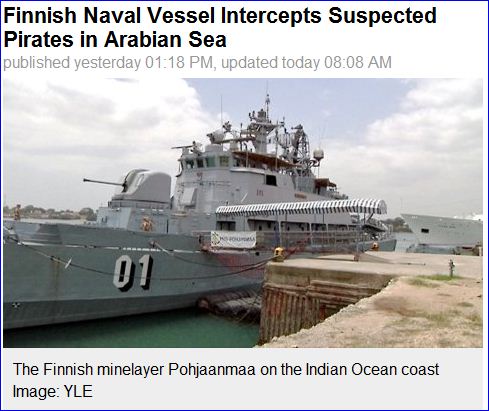 The Finnish minelayer Pohjanmaa intervened in suspected pirate operations in the Arabian Sea early on Wednesday morning. The pirate vessel tried to flee the scene, but thePohjanmaa prevented its escape by firing warning shots.
The Pohjanmaa intercepted the suspected pirates about 500 kilometres south east of Oman.
An inspection brigade from the Pohjanmaa discovered materials related to maritime piracy on board the suspect vessel. Interrogation of the 18-man crew is underway.
According to Commander Pasi Staff of the Navy Command Finland, arms were also discovered on board the seized vessel.
NOTE: HS has more here.