Al-Qaida removes 13 names from its roster list.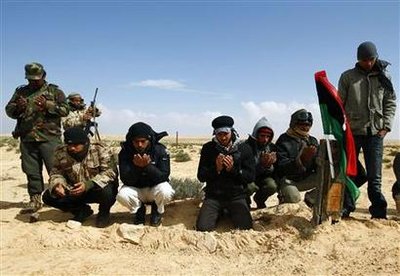 Boo-freaking-hoo! Let us all hope that ones who were offed were either al-Qaida terrorists or their sympathizing supporters. Getting all mushy eyed for dead Libyan "rebels" is a bad joke, let the Alien vs. Predator competition in Libya continue until all the terrorists on both sides are history. KGS
Coalition "friendly fire" kills 13 Libyan rebels
EAST OF BREGA/BENGHAZI, Libya (al-Reuters) – A NATO-led air strike killed 13 Libyan rebels, a rebel spokesman said on Saturday, but their leaders called for continued raids on Muammar Gaddafi's forces despite the "regrettable incident."
In the rebel capital of Benghazi the anti-Gaddafi council also named a "crisis team," including the former Libyan interior minister as the armed forces chief of staff, to run parts of the country it holds in its struggle to topple Gaddafi.
The 13 fighters died on Friday night in an increasingly chaotic battle over the oil town of Brega with Gaddafi's troops, who have reversed a rebel advance on the coastal road linking their eastern stronghold with western Libya.
Hundreds of mostly young, inexperienced volunteers were seen fleeing east from Brega toward the town of Ajdabiyah after coming under heavy mortar and machinegun fire.
A contingent of more experienced and better organized rebel units initially held their ground in Brega, but with most journalists forced east, it was unclear whether they had remained inside the town or had pulled back into the desert.