Oh, it's because of the outrage factor. It's unknown at this point just exactly who were the "voices of outrage", but it was enough to get the Bukowski art auction house to remove an entry by the renowned Swedish artist, Lars Vilks. The picture below is from an interview the Tundra Tabloids conducted with Lars a few years ago in 2008.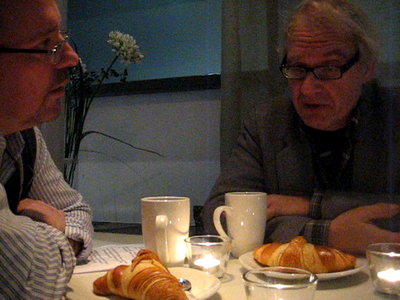 The Baron over at Gates of Vienna shares the following:
The latest indignity suffered by Lars Vilks was recently inflicted by Bukowski's auction house, which organized a charity auction for the 29th of March. The sponsors asked the artist if he could contribute one of his works to support organizations working against HIV, so he sent a drawing. Unfortunately, Bukowski's received so many angry responses that they decided to remove his piece from the auction.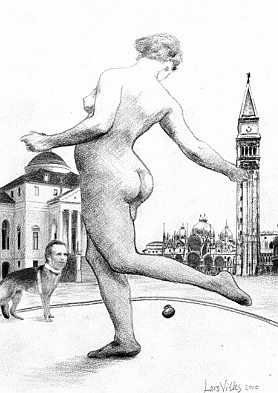 The censored work: Roundabout woman with golden apple
Here's the story from Lars Vilks' website, as translated by Reinhard ofICLA:
"Art has always been able to speak about difficult things and overcome taboos", says Michael Storåkers, vice president of Bukowski's. It has happened before, but when it happens it can become quite difficult, not least for Bukowski's. A while back I was asked to donate a work to an auction, the profits from which were to go to help combat the spread of HIV. Of course, I donated a drawing. The drawing includes both a roundabout and a roundabout dog, but can hardly be seen as offensive. Not even if you change tracks and consider the central figure, the roundabout woman which could possibly — in these times — lead to complaints about patriarchal world views and lack of gender perspective.