This is a serious statement by the police, an ultimatum of sorts. The Tundra Tabloids wishes the lads all due success in getting their message out and the event staying peaceful. KGS
UPADTE: Pic from the demo area.  A ring of steel?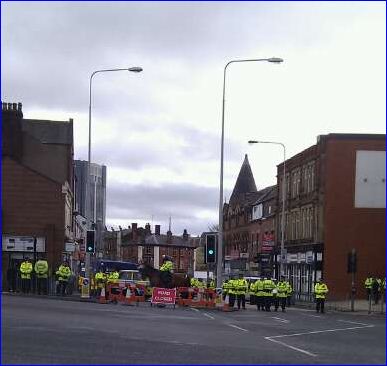 H/T: Gaia:
Ring of steel around Blackburn.  Aeneas has just called in from Blackburn where the EDL demo takes place today.  The police have erected 8ft high steel barricades around the town to keep everyone in place.  Tommy and Kev have been issued with "Osman" orders, i.e. the police cannot guarantee their safety which is left to their own responsibility"
Police Warning To EDL Leadership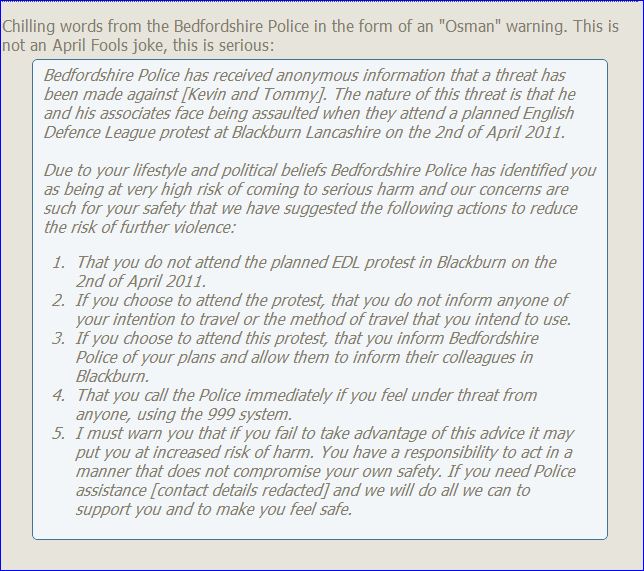 Memo For Blackburn demo 2nd April 2011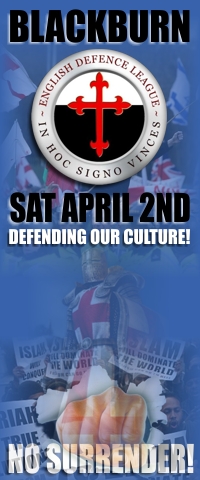 Its seems like quite a while since our last demo in Luton, but I think the wait has given everybody a bit of time to recharge their battery's so we can all make this year count more than any of the previous, and what a way to get cracking on fighting the good fight than a demonstration in the great northern city of Blackburn, which as you all know has had more than its fair share of abuse from militant Muslims and islamification.
The Blackburn division have really taken into grasp what is happening in their city and are acting on it, one situation is how they have been constantly protesting every evening outside a KFC who have introduced Halal meat to one of their stores, who's customers are predominantly non-Muslims, you will succeed against the islamification of this country if you stay persistence like this, the admins and the division are doing a brilliant job in Blackburn, I've seen their concerns for their city and their passion to act in the meetings we have been holding with Lancashire Constabulary to organise this demo, its not been an easy ride putting this demo and march together, but together we got there eventually and arranged one of the best demonstration's we'll ever have, at this point I would like to thank the Blackburn admins because I wouldn't have been able to do it without them, we got precisely what we wanted, so we would also like to thank Lancashire Constabulary and Blackburn Council for being so facilitating.
Now down to business!
All coaches and minibuses are to exit junction 4 of the M65 and rendezvous at the lorry park area on the service area at junction 4 from 9:30am to no later than 12:00pm, you will be taken immediately to the public houses, Lancashire constabulary have informed me their will not be any waiting around. From the public houses your coaches will be parked up in the area the march will end for you to conveniently access them at the end of the demonstration.