So Gadaffi is sending out his daughter to win the hearts and minds of the people. Hopefully she's in the same room with her father when a cruise missile greets the fearless leader. KGS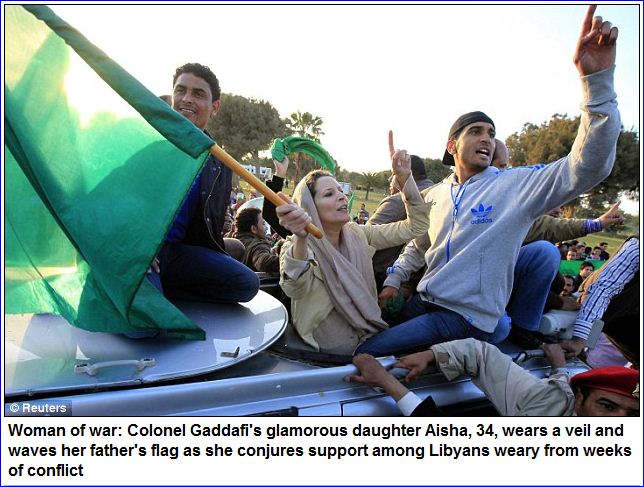 Fleeing rebels pushed out of Ras Lanuf


Ragtag opposition seems incapable of holding ground without air strikes

David Cameron says he has not ruled out arming rebels

Five Libyan diplomats expelled from the UK

Officials downplay 'flickers' of Al Qaeda involvement in rebel forces


'Claudia Schiffer of North Africa' rallies troops
Colonel Gaddafi has unleashed his latest weapon against Libya's revolutionaries – his glamorous blonde daughter.
The tyrant today continued to press home a counter-attack in the east of the county, pushing fleeing rebel forces back out of Ras Lanuf – a town they had only regained with the help of international air strikes a couple of days ago.

And he now hopes to rally fresh support among weary troops with the help of his pretty 34-year-old daughter Aisha.