Alexander Stubb, Finland's young Foreign Minister is the main subject in an interview with parliamentarian, Hannu Takkula (Center party) by the Finnish newspaper, Suomenmaa. The Tundra Tabloids has mentioned earlier about Stubb's opinions about the revolution in Egypt, which were both dangerous and misleading.
What Stubb tried to do back then during the height of the Egyptian upheaval, was nothing more than trying to putting lipstick on a pig. No matter how hard he tried to market the idea that the revolution was made up of primarily young, highly educated people ("along with a few Muslim Botherhood members, so what"), who all want change, those of us who knew better were just shaking our heads. KGS
Here's an excerpt from the article: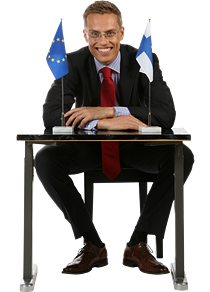 Alexander Stubb: "There were no Islamists on the streets of Cairo"

In Hannu Takkula's view the press are euphemistic on Stubb's expertise
[…] In Takkula's view, Stubb get's off too easy, like when the minister said soon after the start of the uprising (in Egypt) that it was the new Twitter and Facebook generation behind it.
The analysis took a serious dive according to Takkula, for in Egypt there lives some 80 million people, of whom only half are literate. The Internet reaches only about ten percent of the population.
– Half of the people were outsied the whole situation. You can not generalize that the whole of Egypt is behind the uprising, Takkula says.
– after the uprising, a General rose to power. Now this reminds of a classical military coup d'etat. Was the 74-year old General supposedly of the generation of Facebook supporters, he asks.
In Takkula's opinion, the Egyptians are not interested in democracy, let alone liberalism, such as Stubb has claimed.
– Now in the (upcoming) elections are two strong political actors. Hosni Mubarak's party and the remnants of the Muslim Brotherhood. Neither party's program has liberalism or democracy as central ideas.
Takkula knows that the Stubb has subsequently corrected his words. He thinks that in Finland, Stubb is allowed to have fanciful views. He remembers how the young foreign minister believes that the war in Georgia had changed the world.
– Similarly, if a similar analysis of Egypt had told senior foreign policy representative, such as Paavo Väyrynen (Centre), Erkki Tuomioja (soc dem), Ilkka Kanerva (cons), or even Tarja Halonen, they would not have been given any room. The analysis would have been shot down immediately.
– Alex represents the Facebook generation, so maybe he can get away with statements such as these.
H/T: Vasarahammer